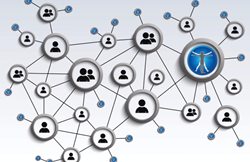 iViews' innovative product line helps eye care professionals expand their clinics beyond their four walls.
Dunedin, FL (PRWEB) December 07, 2015
A Tampa Bay area company is a major player in technology solutions for ophthalmic care across the country. iViews Imaging System, LLC, founded by Paul and Julie Chace, has been helping with the workflows for Eye Care Professionals for years and is now including new modules that will expand the reach of regional eye care clinics. These modules streamline the co-management of the patient's eye care and imaging.
The innovators at iViews have created a central repository of diagnostic imaging and data that come from diverse sources—cameras, perimeters, OCTs, topographers and more—so that they might yield more sophisticated clinical insights. Helping itinerant doctors stay in touch by providing access to their patient records while on the go.
"Given the increasingly central role that imaging plays in eye care, the current available process seemed untenable for the long-term. To that end, we have created an iViews cloud based solution. Our clients want to have everything in one place so they can look at progressive disease, observing change over time, with all the data right there in front of them," says Paul DiFiore, about the benefits to clinical care.
"iViews' innovative product line helps eye care professionals expand their clinics beyond their four walls. Simply by logging on to an iViews Cloud, eye-care professionals can easily track referrals between health care professionals, share diagnostic reports, split technical and professional codes, and create virtual reading centers or remote screening centers to review images and data," says DiFiore.
"Because the iViews application software loads patient data directly into instruments, it streamlines the patient work flow for the clinic. The ocular images and data are uploaded directly for viewing and allows eye care professionals to see the images of the eye from a variety of instruments, effectively providing a clear view of the patient's eye health," Chace. "This clear view allows for quicker solutions for eye care patients; particularly those with diseases that can lead to blindness, such as glaucoma, retinopathy and cataracts."
iViews Imaging System, LLC, is located on the Gulf of Mexico in the coastal town of Dunedin, Florida. Their innovative systems helps eye care professionals across the country communicate quickly and effectively to help patients. With a national reach, iViews Imaging clients include: Kittner Eye Center at UNC-Chapel Hill, Beth Israel Deaconess Medical Center in Boston, Harvard Eye Associates in Laguna Hills and San Clemente, CA and Texas Retina Associates throughout Texas.
Dr. Deupree, MD, FACS and Vitreo-Retinal Surgeon and Physician at The Macula Center in Palm Harbor, Florida, says, "I have used iViews in my busy practice for several years. It is an integral tool in my daily patient care. It works seamlessly with all of my imaging devices, and quickly delivers quality patient images, no matter where I am located."
"We're committed to the Tampa Bay area,'' says Chace, "It's a great place to work, live and to develop solutions that help people see clearly.''
For information on iViews Imaging Systems, contact us today at 727-734-8393 or visit our website.