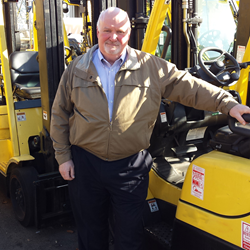 Bristol, PA (PRWEB) December 03, 2015
Modern Group is happy to announce the hiring of Greg Garrison as the company's new Used Equipment Manager. Mr. Garrison brings over 30 years of experience in the material handling industry with specific concentrations of rental management and equipment sales.
Working directly with the sales and service teams he will be responsible to expand the base of used equipment offered by Modern from a number of sources. Namely retirement of assets from the company's rental fleet, trade-ins as part of new forklift sales, and market purchases of equipment for reconditioning by Modern's used equipment service team. Mr. Garrison will leverage many ways to bring this equipment to market and made available for sale to the widest customer base possible.
"Used equipment is a key component to our overall success as a sales organization, combining value with versatility that customers regularly seek" said Ray Wiley, Modern's Vice President of Forklift Sales. "We welcome Greg Garrison to our team to expand this area of business as never before."
Customers and wholesalers can contact Greg Garrison at GarrisoG [at] moderngroup.com or by phone at 215-360-2872.
About Modern Group, Ltd
Modern Group, one of the nation's leading equipment distributors, provides sales, leasing, short term rental, service, parts, training and financing solutions through its forklifts, power systems, arborist, construction, and warehouse products businesses serving Pennsylvania, New York, New Jersey, and Delaware. For more information visit http://www.moderngroup.com.