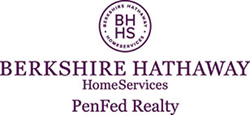 All three managers bring a wealth of experience and significant career achievements to the Realtor® community.
RESTON, Va. (PRWEB) December 03, 2015
Berkshire Hathaway HomeServices PenFed Realty, one of the world's most respected and trusted brands, welcomes three new branch managers, Jeremy Cunningham, Michael Mulvey and Diane Taylor, as the company continues on its successful growth trajectory.
"Each one of these highly skilled managers are industry leaders who have built successful real estate careers through hard work, integrity and a winning attitude," said Kevin Wiles, president of Berkshire Hathaway HomeServices PenFed Realty Mid-Atlantic.
"All three managers bring a wealth of experience and significant career achievements to the Realtor® community," Wiles added. They will provide the latest training, technologies, marketing support and problem solving insights to our very talented agents."
Jeremy Cunningham leads the Vienna and Oakton offices in Northern Virginia. Cunningham coached, trained and managed as many as 265 agents at his previous company. Before becoming a successful real estate manager seven years ago, he served in a variety of sales management positions in the aviation industry. Cunningham started his career serving four years in the U.S. Navy as an Aviation Electronics Technician and is a FAA licensed pilot.
According to Cunningham, the unique blend of a real estate company (Berkshire Hathaway HomeServices) and a financial institution (PenFed), offers tremendous value and benefit to homebuyers and sellers—which is the key reason he joined the company.
"Berkshire Hathaway HomeServices PenFed Realty is a perfect blend of the most critical elements required for success in today's demanding world of real estate brokerage," said Cunningham. "This company is the gold standard when it comes to knowledgeable agents who provide customized plans for their clients to build wealth equity and preservation."
Michael Mulvey leads the Federal Hill office in Baltimore City. He began his real estate career in 2003 after retiring as a sergeant major from the U.S. Army. During his 24 years of active service, Mulvey accumulated 24 awards and medals.
"It was an easy transition into a real estate career, which I recommend to any service members who are thinking about an entrepreneurial job," he said. "To date I have completed 250 transactions for a total volume of more than $100 million dollars. Now as a branch manager, I'm looking forward to helping agents and their clients achieve major success."
Diane Taylor leads the Howard County office in Columbia, Maryland. She practiced in the legal field before becoming a professional agent. "As a legal assistant, I handled real estate settlements and contracts, which comes in handy in the real estate business," Taylor said. "I'm also very marketing and technology savvy, which will allow me to help all of our talented agents provide unparalleled customer service and support during the transaction process."
About Berkshire Hathaway HomeServices PenFed Realty
Berkshire Hathaway HomeServices PenFed Realty is a full-service real estate company with annual sales volume of $2.8 billion with 1,700 sales agents and 50+ offices providing complete real estate services nationwide. PenFed Realty is a wholly owned subsidiary of PenFed Credit Union (PenFed). PenFed is a financial institution with $19 billion in assets and more than 1.4 million members. PenFed Realty is also a member of the Berkshire Hathaway HomeServices brokerage network, operated by HSF Affiliates LLC. Visit PenFedRealty.com. Equal Opportunity Employer: m/f/v/d.