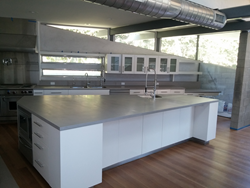 Surecrete Your Concrete Today
(PRWEB) December 15, 2015
Concrete counter top mix, decorative concrete overlays, and stained concrete floors are now more accessible than ever thanks to the company that is revolutionizing the concrete industry. Through SureCrete Design Products' manufacturing of easy-to-use products and convenient stocking locations throughout the country, property owners now have options for their surfaces that were once only available to architects and engineers for amusement and theme park designs. Granite, Formica, wood, carpet and tile are no longer the only cost effective options for any home décor. Not only has SureCrete made concrete much more readily available than it has ever been before, but it is also the most customizable surface on the market today. Quite literally, any look, design or texture that could possibly be imagine can now be made using thin concrete overlays, coatings or casting.
Decorative Concrete overlay products used to only be available via shipping directly from the manufacturer to a job site or from fabricators or contractors that already had the product on hand in local areas all over the world. SureCrete has made thin concrete overlays available in every major city and metropolitan area, in stock and available to be picked up when the contractor or even the homeowner are ready to apply their products. SureCrete has also improved the formulation of these concrete overlays to provide them at a price point that is competitive with, and in many situations, cheaper than other standard flooring options such as carpet, tile and wood flooring and having a much more durable and much more customizable floor design at a reasonable cost with a very fast turn-around time.
For decorative concrete counter tops, all that is needed is one bag of powdered concrete and one gallon of specially formulated liquid activator to create custom counter top that are much stronger than regular concrete, thinner than normal cast concrete pours while also providing a much smoother finished surface. Give it a try and start creating a custom counter top without the full fabrication shop at a price point similar to high-end Formica or granite.
Custom colored concrete paints were another product that had to be ordered directly from the manufacturer and shipped to a job site. If there were any colors stocked by a local distributor this selection was typically extremely limited up to maybe 15 or 20 colors. SureCrete has flipped the industry on end by placing custom tinting stations throughout the country to enable distributors to produce custom concrete paints both for exterior and interior applications at a moment's notice and in a nearly unlimited color palette. This even includes providing tinted epoxies for use in epoxy metallic and flake coatings that are quickly getting property owners' attention with their very unique designs. Create a multi-color thin texture for a workshop or commercial floor that can be applied in as little as a few hours' time with the epoxy flake system, or use the epoxy metallic floor kit to create a smooth glass-like surface with three-dimensional looking color movement that will instantly grab everyone's attention. All of this available the same day at a competitive price point.