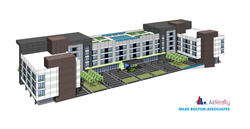 Anytime you can create a development where you can live, work and play, that's what great cities are all about.
Atlanta, GA (PRWEB) December 04, 2015
Air Realty LLC in partnership with HJ Russell & Company, the team who created ThePad on Harvard, College Park's hip, new, transit-oriented development next to its MARTA station, is adding a luxury, boutique hotel and more than 25,000 square feet of ground-level retail to the site.
Plans filed with the College Park Planning Department on Wednesday, Oct. 28, detail additional development for the parcel between Harvard and Princeton avenues. Phase I construction for ThePad on Harvard is well under way.
Air Realty is once again partnering with HJ Russell & Company to develop 136 hotel rooms in a hospitality complex on the site just 400 feet from the train stop. In addition to the hotel, which will conform to high standards of sustainable construction and operation, the complex will incorporate a mix of local, healthy-living restaurants and retail.
Designed by the Niles Bolton Associates team of Lester Love and Andres Rubio with interiors by DesignONE, the complex will include morning through evening dining featuring local and sustainably produced menu items and ample green space in its design. Andres Rubio, AIA, LEED AP, brings 22 years of experience in internationally oriented design and a strong reputation for creative, sensible solutions to every phase of hotel and mixed-use development from concept to construction.
DesignONE is widely known for its sustainable, high-concept designs for the Westin Buckhead and the W Midtown, including its elegant, sexy Whiskey Park lounge. The new College Park hotel will feature a rooftop pool environment designed to surround its visitors with upscale comfort and stylish ambiance.
Retail offerings at ground level will include restaurants serving local and organic fare from up-and-coming young chefs. The complex will serve and reflect the healthy, balanced lifestyle today's professionals want.
Construction is expected to begin on the complex in six to nine months, according to the project partners. Civic and political leaders in College Park are pleased to see the mixed-use concept refreshing Historic College Park with charms designed to appeal to new generations of residents and visitors.
College Park City Councilman Tracey Wyatt is enthusiastic about the mix of hotel and retail that the Phase II project will add at ThePad on Harvard's College Park site.
"Anytime you can create a development where you can live, work and play, that's what great cities are all about," Wyatt said.