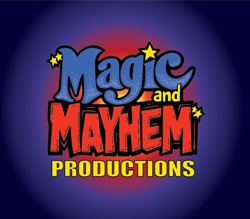 Orlando, FL (PRWEB) December 03, 2015
Looking for the perfect stocking stuffer this holiday season or the chance to impress party guests? Now, anyone can learn the magic right in their own living room with professional magician "James the Unbelievable" and the rest of the fun-loving team behind the award-winning Magic and Mayhem Comedy Magic Show with the exciting release of "Magic and Mayhem That You Can Perform!" Volume 1. Through this special DVD, viewers get an all-access pass to the magic and mayhem and learn the real secrets to perform professional magic. The carefully selected effects come straight from Magic and Mayhem's personal repertoire and can be performed with simple, inexpensive materials found right at home.
"A magician never reveals his secrets, but we are bending the rules a bit," says Founder of Magic and Mayhem Productions James Songster. "After we perform a show, we often have guests from the audience ask how we performed this trick or that effect. With all of the family gatherings, parties and events this time of year, it's the perfect time to release our DVD. Magic and Mayhem is all about bringing customizable magic and comedy to any audience anywhere, and we are thrilled to give people the opportunity to learn effects for themselves and bring the magic to their kids, their families and their friends in a whole new, engaging way."
Together, James Songster and the members of the Magic and Mayhem team bring over 35 years of experience to the DVD that teaches 10 easy-to-learn professional magic effects with step-by-step instructions showing viewers how to build and perform cool tricks such as the "Levitating Coin," "Disappearing Milk Bottle," "Rubber Band Escape" and bonus "Confusing Corks" effect.
To purchase "Magic and Mayhem That You Can Perform!" Volume 1, visit mkt.com/ItsUnbelievableMagic. For more information on Magic and Mayhem's comedy magic show offerings and for booking inquiries, call 407-222-4412 or visit http://www.MagicandMayhemShow.com.
About Magic and Mayhem Productions
Founded by award-winning magician James Songster in 1997, the locally owned and operated Magic and Mayhem Productions is comprised of a diverse team of talented and entertaining performers. Each year, Magic and Mayhem Productions present over 400 performances of engaging, family-friendly and theatrical comedy magic at a variety of venues including festivals, special events and banquets. In addition, they also offer corporate workshops and seminars where they provide custom magic-based team building exercises. Magic and Mayhem Productions includes customizable theater-style experiences for any size group, organization or visitors to Central Florida through one of the many tour operators. For groups and associations looking to have the magic come to them, Magic and Mayhem Productions offers the professionalism, adaptability and appropriate fun that Central Florida is famous for.
Media Contact: Ilene Lieber, 321-277-7812, ilene(at)passionprconsulting(dot)com