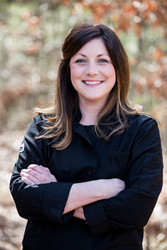 For The Fireside Social, we wanted to turn Sainte Terre into our own cozy rendition of an Aspen ski lodge. -Chef Holly Schreiber
Benton, LA (PRWEB) December 03, 2015
Sainte Terre, a wedding and event venue that opened in Benton, Louisiana in Spring 2014, has announced details of two upcoming dining experiences that will showcase the talents of Chef and Owner Holly Schreiber. Schreiber is a graduate of the French Culinary Institute whose career to date has included developing recipes and cook books for such entities as Simon & Schuster, Kroger Grocery Stores and Chef Alain Ducasse, among others.
The Fireside Social, a night of fun, food and holiday revelry, will be held at 6:30 p.m. on Saturday, Dec. 19. The Fireside Social will include snacks and a seated dinner prepared by Chef Schreiber, as well as a "wall o' holiday punches," a cigar and bourbon bar, craft beer, wine and spirits. Acoustic live music will be provided by Lake Charles-based indie/folk duo Elms District and vintage board games will be available for guests to enjoy.
Highlights of the menu for The Fireside Social include pulled duck dumplings, bourbon maple-roasted quail, espresso cocoa-crusted lamb chops, and bison bolognese with fresh pappardelle. Tickets are $85 per person and may be purchased at http://www.sainteterre.com. Tickets must be purchased in advance and will not be available at the door. Guests must be 21 years of age or older in order to attend.
"For The Fireside Social, we wanted to turn Sainte Terre into our own cozy rendition of an Aspen ski lodge," Schreiber said.
Sainte Terre's first dinner of 2016, Love Letters: Sainte Terre's Valentine's Day Dinner, will be held at 6 p.m. on Sunday, Feb. 14. The dinner will include readings of carefully selected love letters from throughout history as well as a six-course menu paired with wines provided by Benton, Louisiana's Fete LA. Menu highlights for the Love Letters dinner include salmon tartare cornets with caviar and creme fraiche and fig, guanciale and gorgonzola dolce agnolotti with duck confit and spiced pecan brown butter. Tickets are $125 per person and must be purchased in advance. This will be the second annual Valentine's Day dinner at Sainte Terre. Tickets to the 2015 event sold out within days of going on sale.
Sainte Terre is located at 190 Nickle Lane in Benton, Louisiana. To view photos of the venue, purchase tickets or learn more about upcoming events, visit http://www.sainteterre.com.