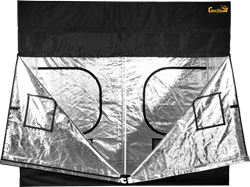 (PRWEB) December 05, 2015
Gorilla Grow Tent's workhorse 5'x9' grow tent, is back in stock. Due to its ever increasing popularity, the tent had been on back order for more than a two weeks. The 5x9 Gorilla Grow Tent is the perfect grow tent for potted plants or a 4x8 tray, giving the perfect amount of operating space for an indoor garden. It also happens to be the perfect size for housing a 12 site Deep Water Culture hydroponic system like the BubbleFlow Bucket system from Supercloset. The height extension system allows for the tent to increase from a standard height of 6'11" to 7'11". Also available is a 2' extension kit that will enable the tent to reach 10'in height. This feature is unique to the grow tent market and is the number one reason for the popularity of the Gorilla Grow Tent line.
Most early adopting hydroponic stores like putting the Gorilla Grow Tent next to other tents in the showroom to demonstrate the increase in grow space. In addition, the 5'x9' Gorilla Grow Tent is designed with the extremely thick 1680D IR blocking fabric mesh insulation, essentially 3-9 times thicker than any other tent on the market today. Because of this feature, the 5'x9' Gorilla Grow Tent maintains perfect temperature and humidity throughout while eliminating odor and sound. For more information, call or visit a local Hydroponics and Gardening shop or give the folks over at Gorilla Grow Tent a call today.