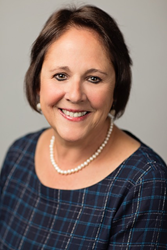 Judy Burbank shares our vision to inspire and nurture the hearts and minds of our students--one child, one teacher, one family at a time.
Los Angeles, CA (PRWEB) December 04, 2015
Stratford School, an award-winning independent preschool through 8th grade private school founded in Silicon Valley, is pleased to announce Judy Burbank as Head of School for their new Pasadena/ Linda Vista campus opening Fall of 2016.
Judy brings over 20 years of experience to her position as Head of School having served most recently as Elementary Principal at Stratford's De Anza Park campus in Sunnyvale, California. This campus is one of Stratford's largest preschool through 5th grade campuses and has high academic achievement across all of its programs. Upon learning of her move to the new campus in Pasadena, Judy said, "It is an honor to be part of Stratford School's expansion in Southern California. Helping to bring Stratford's exceptional STEAM education, where children are inspired to be creative problem-solvers, innovators, and leaders is the best reason I can think of to move south. I am looking forward to hiring a passionate faculty who foster curiosity and achievement in each student, creating a caring educational environment, and maintaining Stratford's high academic standards at the new Pasadena/ Linda Vista campus."
"Judy Burbank shares our vision to inspire and nurture the hearts and minds of our students--one child, one teacher, one family at a time," says Stratford founder, Sherry Adams, who established the school in 1999. "We are confident in Judy's leadership skills and her ability to maintain a school community that inspires children to realize their full and unique potential."
Stratford School, the first school in California to receive the prestigious Carnegie STEM Excellence Pathway Digital Seal, has also been awarded the 2015 School of the Year at the Synopsys Science and Technology Championship and voted Best of the Bay 2015, by readers of Bay Area Parent. The Western Association of Schools and Colleges (WASC) commended Stratford for providing "…a rich, well-rounded, challenging, and sequential curriculum that is constantly enhanced" and their students historically matriculate to highly-ranked, first choice high schools.
For more information about Stratford School's Pasadena campus go to http://www.stratfordschools.com/socal
 
About Stratford School
Established in 1999, Stratford School is a leading independent private school founded on the belief that education is a significant influence in the life of a child. Stratford offers an accelerated curriculum from preschool through eighth grade with an emphasis in the areas of STEAM (Science, Technology, Engineering, Arts, and Mathematics) that incorporates music, physical education, foreign language, and social skills development. Stratford's goal is to prepare and mentor students for admission to competitive high schools and colleges. All students are provided the necessary tools to excel, and are encouraged to participate actively in leadership, community service, and extracurricular activities. Visit http://www.stratfordschools.com for more information.