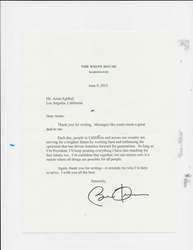 As long as I'm President, I'll keep pouring everything I have into reaching for that future, too. I'm confident that together, we can ensure ours is a nation where all things are possible for all people. President Barack Obama
Los Angeles, CA (PRWEB) December 07, 2015
Enrich Financial Office of Credit Repair Specialist led by CEO Arian Eghbali has recently received a special letter of recognition from United States President Barack Obama. The letter, dated June 9, 2015, serves as an inspiration from none other than the president himself to help people in times of financial need. Enrich Financial, headed by Mr. Eghbali has been working hard to assist people from Tarzana, CA and other neighboring cities with improving their credit histories. The company believes that it is through the use of their special credit programs, people that have tarnished credit histories as well as struggling financial situations could find the best solution to financial health.
Receiving a personal letter from the highest leader of the country is truly a great honor indeed for Enrich Financial. Similar to President Obama who has a strategic line-up of financial projects to help people from all over the country, Enrich also has efficient strategies to help clients pursue credit repair. The company's strategies focuses on client education on the many aspects of finance management as well as education on how to avoid bankruptcy, managing late payments, getting out of debt and so much more.
An excerpt from President Obama's letter to Arian Eghbali. "Each day, people in California and across our country are striving for a better future by working hard and embracing the optimism that has driven America forward for generations. As long as I'm President, I'll keep pouring everything I have into reaching for that future, too. I'm confident that together, we can ensure ours is a nation where all things are possible for all people."
Enrich Financial is a credit repair company founded by Arian Eghbali. It provides smart, professional credit repair help for clients that struggle with financial problems. Enrich services Tarzana, CA and is a proud member of the Valley Chamber of Commerce. For more information about Enrich Financial, fill out a form at: http://www.enrichfin.net .