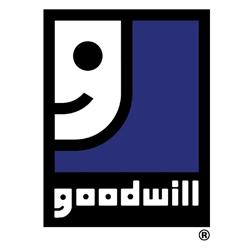 "Every day, people come to Goodwill looking for help in finding jobs and building their careers so they can care for themselves and their families. This donation will benefit the people who use Goodwill's services."
Rockville, MD (PRWEB) December 07, 2015
A message of joy and Goodwill® can be seen in Walmart this holiday season. American Greetings, creator and manufacturer of innovative social expression products that assist consumers in making the world a more thoughtful and caring place, is supporting Goodwill Industries International with its "Bring Joy to Your World" campaign that will be featured alongside cards and gift wrap in Walmart locations throughout the United States.
Through a one-time financial gift of $100,000 to Goodwill Industries International, a nonprofit social enterprise that helps support employment and job training programs in local communities, American Greetings is supporting critical services, including veteran support and training programs. Goodwill assists veterans, people with disabilities, people who need education or work experience, and others who face challenges to finding employment. Last year, more than 318,000 people found jobs with the help of Goodwill services.
"We are thankful for American Greetings' donation, which will help Goodwill grow its mission," said Jim Gibbons, president and CEO of Goodwill Industries International. "Every day, people come to Goodwill looking for help in finding jobs and building their careers so they can care for themselves and their families. This donation will benefit the people who use Goodwill's services."
There are 165 local Goodwill organizations in the United States and Canada, and each organization tailors its services to local community needs. Goodwill services include computer classes, résumé and job interview preparation, financial education, child care, transportation and many more.
To learn more about Goodwill or to find your nearest Goodwill career center, store or donation location, visit http://www.goodwill.org
About Goodwill Industries International
Goodwill Industries International is a network of 165 community-based member organizations in the United States and Canada with a presence in 13 other countries. Goodwill is one of America's top 20 most inspiring companies (Forbes, 2014). Goodwill organizations are innovative and sustainable social enterprises that help fund skills development, job training programs, employment placement services and other community-based programs by selling donated clothing and household items in more than 3,000 stores and online at shopgoodwill.com®. Local Goodwill organizations also build revenue and create jobs by contracting with businesses and government to provide a wide range of commercial services, including packaging and assembly, food services preparation, and document imaging and shredding. In 2014, more than 426,000 people in the United States and Canada used Goodwill's intensive one-on-one career services to prepare for employment. In addition, more than 24 million people used computers and mobile devices to access Goodwill education, training, mentoring and online learning services to strengthen their skills.
To find a Goodwill location near you, use the online locator at Goodwill.org, use the Goodwill Locator app at goodwill.org/apps, or call (800) GOODWILL. Follow us on Twitter: @GoodwillIntl and @GoodwillCapHill, and find us on Facebook: GoodwillIntl.