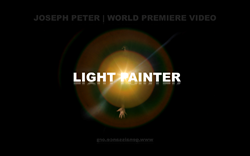 'These works capture 4 dimensions on a 2-dimensional surface, creating a manipulation of the space-time continuum.' - Renowned Italian physicist, Dr. Petra Scudo
NEW YORK (PRWEB) December 05, 2015
This vast body of work introduces 4th dimensional breakthroughs in the medium of LIGHT with multiple art movements. The Collezioni covers works created between 2009-2013 after having returned from his historic voyage across the entire African continent with the FIFA World Cup Trophy™ Tour. The Collezioni consists of paintings, sculptures, etchings, frescoes, vision boards, energy fields for public space (covered in a 2011 NYTimes feature, titled "The Pied Piper of Happiness"), with massive light mandalas the size of the Buddhist wall in the Metropolitan Museum of Art and intricate LIGHT symphonies.
Renowned Italian physicist, Dr. Petro Scudo, is quoted in the video, saying, "These works capture 4 dimensions on a 2-dimensional surface, creating a manipulation of the space-time continuum." Light work was one of Pablo Picasso's late period explorations, perhaps a clue he left for future generations to expand upon with better technology.
The focus of LIGHT is the third phase of Joseph's Genaissance.org thesis. Phase one was a photographic study of Happiness to create The African Book of Happiness, a vision for the next generation, post-Millennium Development Goals 2015 (MDG 2015), a UN initiative. In phase two, Joseph sought to take this new vision global as a pop culture bridge by building the necessary bridges at the highest levels of the United Nations and successfully campaigning for the adoption of an International Day of Happiness. The intention of the day is a brand refresh for Sustainable Development Goals (SDGs) 2016-2030+, combining the values of Mandela Day and The Book of Happiness, further validating the runway for a Global Genaissance.
The African Book of Happiness is a Mission Image renovation of the continent with the most least developed countries (LDCs) in the form of a positive "Mandela Vision" of the entire African continent's most valuable resource: its people. "The Book of Nelson," as Mr. Peter calls it, "is a generational bridge of humanitarian and universal values which translate globally at a time of needed global unity for a positive vision and change in the world."
Artist Statement
LIGHT - ILLUMANISM by Joseph Peter
INTRODUCTION
The new canvas = memory and the camera sensor (special thanks to Brian Bridgeon and The Sandisk Corporation)
The new paint = light (1 lumen -X lumens thru progressive palette development)
Learn how to see and frame light (2004-2011)
Learn how to shape light in space (2011-2012)
Learn the range of light Exposure time and movement = Light sculpture, time sculpture (2012)
"Painting on canvas represents a glimpse of the artist's imagination and movement within a physical orientation and dimension, a reference point of surface upon which to direct and work a medium. A light painting on a camera sensor demonstrates freedom of movement rare in art. You move light, flip the orientation of the physical canvas, re-orient the mind and paint by memory. When you paint on surface or sculpt, you know where your prior lines are without having to remember them; you have a dimensional reference to build more strokes, contour lines and shape your work…. These light works are created in a process by which memory is the only canvas you have, thus flexing and stretching a new muscle—time meets muscle memory. Like dance, light painting philosophically explores 'the electrodynamics of moving bodies.' There is a 'zone state' and 'flo' you paint here and there for 20-30 minutes, and then move to the other side and weave these layers of time into tapestries of harmony, just like any other worked dedicated medium—but somehow, it remembers your prior lines in a reference-less space by muscle memory and applied flo.
Once these new languages are fluent, the unlocking of a device to new realms and works of the imagined, unlimited creative mind is now record-able in a single, long exposure. The new frontier for this (black canvas) is the means through which fluency with the space-and-lights relationship is expressed with the orientation of threads and layers of time. For example, the Mini Micro Reverse Inverse Hubble features 45-hour exposures of impressed star dust and celestial light sources onto hubbles with a massive 'sensor.'
Light painting is dimensionless. It liberates the boundaries of abstract expressionism and unlocks time and space. The final product becomes a more expansive, frozen-in-time code representation, seemingly beyond abstract expressionism into new realms, uncharted the more time is stretched. This breakthrough fuses expansive neo-abstract expressionism, perhaps with hints of modernism, fluxus, orphic cubism, rayonism, futurism, constructivism via consciousness of internationalism, finding a common thread that could be considered a term usage of illumanism.
Liberato abstract expressionismo, Illumination, Luminism Illuminism… progressive."
The mission of genaissance.org:
Joseph Peter has been chiseling away at a big vision to inspire this generation, with the goal of validating the runway for a digital global GENAISSANCE. These various missions have already made history, including The African Book of Happiness with the FIFA World Cup Trophy Tour and building bridges with each book given with the "give happiness™"campaign and successfully passing a resolution for an International Day of Happiness at the United Nations. You can learn more about the creation of the day and its give happiness campaign by watching Joseph's TEDxteen 2013 talk, called Give Happiness hosted by Chelsea Clinton, kicking off the first International Day of Happiness.
powered by light
#lightyourfire
#genaissance
#givehappiness
#theafricanbookofhappiness
#internationaldayofhappiness
#the50thlaw
In 2011, the New York Times feature "The Pied Piper of Happiness" immersed itself into phase 1 and 2 of the Genaissance thesis at the African Happiness factory at the top of Mulberry Street.
Joseph is one of the most traveled and young artists in the world with immersion in well over 100 countries before the age of 30. He is a self-taught artist in multiple mediums and disciplines.
For all press inquiries, please contact: info(at)josephpeter(dot)com