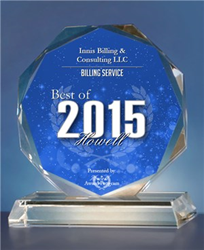 2015 Best of Howell Award - Billing Service
Howell, New Jersey (PRWEB) December 07, 2015
Innis Billing & Consulting LLC of Howell, New Jersey has been selected for the 2015 Best of Howell Award in the Billing Service category by the Howell Award Program.
Each year, the Howell Award Program identifies companies that we believe have achieved exceptional marketing success in their local community and business category. These are local companies that enhance the positive image of small business through service to their customers and our community. These exceptional companies help make the Howell area a great place to live, work and play. http://howell.howell.local-best.com/PressReleaseub.aspx?cc=DE8V-RBE4-YG55
Established in 2013, Innis Billing & Consulting LLC is a cutting edge technologically advanced medical billing company that was created with the sole purpose of serving providers. Just as relentless change in the nation's healthcare delivery system puts financial and legal pressure on providers nationwide, it challenges providers to adapt, differentiate and continue to build value. Perhaps Innis Billing is that differentiation and value that that providers need.
According to Innis Billing's CEO, "Innis Billing is that Ace up the sleeve that providers can count on when it comes to dealing with insurance companies and all of their billing needs.http://www.innismedbilling.com/