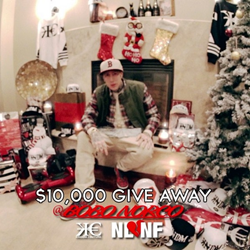 Bobo Norco will be giving away $10,000 each week to a lucky fan this holiday season
Hollywood, CA (PRWEB) December 07, 2015
For the past two years hip hop fans have been giving raved reviews about Bay Area emcee, Bobo Norco and now he is giving back in return. Norco announced on his Instagram this morning that he will be giving away $10,000 each week to a lucky fan this holiday season.
In the video, Norco says, "in honor of the holiday spirit, I was feeling generous", he then fans out ten thousand dollars in cash to the camera, which he will be giving away to one lucky fan. Norco also mentions that he will continue to do this each week throughout the holidays.
In the caption section of the post we learn that the entry rules of the contest include; following @BoboNorco and his new clothing line @KNDM on instagram, tagging a friend in the comment section, and re-posing the contest video with the hashtags #BoboNorco, #Contest, and #BoboNorcoGiveaway.
The caption also mentions the second and third place prizes which include a one thousand dollar gift card to Sephora cosmetics or fifteen hundred dollars of exclusive merchandise from KNDM.co. The third place winner will receive five hundred dollars in cash.
The contest comes on the heels of last month's announcement regarding Norco's upcoming album this February. The album will include features from fellow rap stars; Wiz Khalifa, 2 Chainz, Young Jeezy, Future, T.I., Gucci Mane, and E-40.
To enter the contest visit instagram.com/BoboNorco or follow this link https://www.instagram.com/p/-_Hwnrx2TJ/
About Bobo Norco
Bobo Norco was born in Santa Rosa, California. In January 2013 Norco released a single titled "Roll Call" which is a tribute to the San Francisco 49ers. The song was featured in several media sources including Rap Radar, VladTV, and AllHipHop. In the fall of 2013 Norco released his debut project, "Keep It XO". The buzz from this album landed him a live concert performance at SXSW opening up for Twista. His first hit single, "You" was put in rotation on FM radio throughout the United States and Europe and sparked a national tour that demanded Norco to appear in person in radio station interviews throughout the country. Soon after, another single emerged entitled, "Music Blow My Brain". The track reached #1 on college FM radio which quickly spread across the U.S. His fame also spilled over into print media. Norco was seen with a full page features in XXL's 2014 Freshman Issue, The Source, Alternative Press, and the official Van's Warped Tour guide. He was then promoted to the front of publications and graced the covers of ten magazines including; Tattoo, HYPE, and Coast2Coast Magazines.