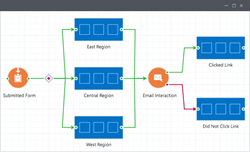 Atlanta, GA (PRWEB) December 08, 2015
ClickDimensions, the top-rated marketing automation solution for Microsoft Dynamics CRM, unveiled its latest quarterly release today. Highlights in this version of ClickDimensions include:
Campaign Automation Builder
ClickDimensions' new campaign automation builder enables marketers to design multi-channel, dynamic marketing paths for CRM leads or contacts. The drag-and-drop interface allows users to easily build automated campaigns with a variety of triggers, timers, and actions. Each participant will follow a unique path based on their interactions with the campaign's content.
Content Pack for Power BI
Power BI is Microsoft's cloud-based business intelligence (BI) solution that enables users to analyze and visualize data in dashboards and reports. The ClickDimensions content pack for Power BI allows users to utilize ClickDimensions marketing data in Power BI, giving management teams further insight into the success of their sales and marketing efforts.
Multiple Email CNAMEs
Users who manage several websites may have the need to send emails from different domains. In this release, ClickDimensions includes the ability to have multiple email CNAMEs. Additional CNAMEs can be added in the Settings area, and the user can select the appropriate CNAME when sending a bulk email.
These and many other solution enhancements are now available to ClickDimensions customers and partners worldwide.
"The ClickDimensions solution is focused on empowering our users with innovative tools to create successful marketing campaigns," said John Gravely, CEO of ClickDimensions. "Our new campaign automation builder allows marketers to create interactive, customized experiences for their prospects and customers, and the intelligence provided through Power BI provides sales and marketing teams the insight needed to make strategic marketing decisions."
About ClickDimensions
The ClickDimensions marketing automation solution for Microsoft Dynamics CRM embeds email marketing, web intelligence, nurture campaign automation, lead scoring, campaign tracking, web forms/surveys, social discovery, and event management tools into Dynamics CRM. ClickDimensions enables organizations to discover who is interested in their products, quantify their level of interest, and take the appropriate actions. For more information, visit http://www.clickdimensions.com, follow @ClickDimensions on Twitter, or email press(at)clickdimensions(dot)com.