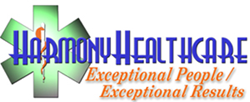 The company's success is due to developing a way to blend the commoditized business processes with a humanized leadership approach
TAMPA, Florida (PRWEB) December 08, 2015
Harmony Healthcare is proud to announce it's been named one of the "Most Promising HR Outsourcing & Staffing Services Vendors" by the Outsourcing Gazette for its uncompromising delivery of revenue cycle management solutions, health information management and clinical documentation improvement support to hospitals and other medical providers in the midst of earthshaking changes in our healthcare systems.
The Gazette is offering its list of "25 Most Promising HR & Staffing" providers in its most recent issue as it notes that more companies are turning to outsourcing as they increasingly face more layered infrastructures, more complicated and faster changing technology, and increasing demands for expert recruitment and staff communication.
Harmony earned its place on the Gazette's 2015 list by providing a wide range of services that include outsourcing and staffing support for revenue cycle management (RCM); accounting and finance; IT; HIM, CDI; and other areas.
Ensuring an accurate, efficient, professional and smooth running financial, informational and technical infrastructure at healthcare facilities allows doctors and other medical staff to concentrate on helping and healing their patients. Harmony Healthcare also helps facilities stay financially healthy and available in their communities.
For example, Harmony's highly skilled and highly motivated consultants and staff ensured that all of its clients complied with this year's deadline to switch to the much more complicated ICD-10 medical coding system. That compliance protected the facilities' revenue streams.
Keeping atop of the constantly changing governmental, technical and financial requirements in the business side of medicine and providing solutions and expert services is where Harmony excels.
The company has broad experience in the healthcare staffing and outsourcing arenas, which gives them access to a wide referral network. They find the best experts in the industry, conduct rigorous vetting, and provide ongoing training and career guidance.
Harmony was built in 2010 on the four cornerstones of integrity, character, discipline and hard work. With those values, the Tampa-based company has helped healthcare facilities across the U.S. boost both their efficiency and revenue potential.
The company, founded by CEO Christopher HG Brown, has enjoyed an astounding three-year revenue growth rate of 920 percent. Harmony's explosive success rate drew the attention of Inc. Magazine, which put Harmony on its 2015 list of the 500 fastest-growing private companies in America.
Brown says his company's success is due to developing a way to blend the commoditized business processes with a humanized leadership approach. He says he's using "a proven process of internal development helping the sales and consulting staff work their short term, near term and long term goals, while simultaneously creating a balance and career security not experienced in other organizations."
Brown is a veteran entrepreneur with a lengthy success record in the business of human capital management. Previously, Brown founded and led Burlington Wells, a Finance, IT and HR contract and placement services company, until it was sold to Monster.com/TMP Worldwide in 2000. After that, he started Insights Search, a Health Information Management contract and placement company, leading it as CEO until it was acquired by On Assignment (ASGN) in 2006.
The Harmony CEO's next goal is to grow his company organically and through targeted acquisitions while also improving its client satisfaction rating, which is currently 97 percent, according to a D&B blind client survey. He also is aiming to make Harmony the industry leader in revenue, margin, employee benefits and support.