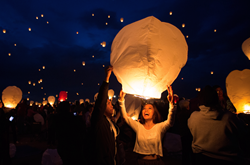 Our problems and worries seem so individual, but they are shared by others in the community
Anchorage, Alaska (PRWEB) December 10, 2015
On March 12, The Lantern Fest will start their 2016 tour by traveling further north than ever before, bringing a festival of light to Anchorage's dazzling night skies. Family and friends, young and old, will join together at the Alaska State Fair Grounds in a celebration of life, love and memories beneath a sky illuminated by floating lanterns.
"The Lantern Fest is a very unifying event," says event director Spencer Humiston. "Our problems and worries seem so individual, but they are shared by others in the community."
Starting at 3 p.m., there will be live music, s'mores, face painters, princesses, a stage show and more leading up to the spectacular lantern launch. After sunset, participants will come together to release their lanterns, painting the sky gold with their hopes and dreams.
A portion of proceeds from each event are donated to Angels of America's Fallen (http://www.aoafallen.org). This non-profit organization honors fallen military, police, and first responders by providing funds and/or supplies for positive mentoring and developmental activities for the children of such heroes. Angels of America's Fallen provides opportunities and support based on the unique needs and interests of each child.
"Right now, there are over 100 children on our waiting list—children who are eagerly awaiting funds for a specific passion or developmental outlet," said Founder and CEO of Angels of America's Fallen, Joe Lewis. "This partnership with The Lantern Fest is a great way to honor our fallen, while raising funds that will help us move these kids off of our waiting list and into music, sports, or some other passion that involves a coach or mentor."
Lantern Passes can be purchased online and are required for admission to the event. Each pass comes with a lantern, marker, s'mores kit, and lighter. Participants are encouraged to register before the holidays to take advantage of the current pricing. Tickets are available at http://www.thelanternfest.com/location/anchorage/ or checkout what fans have to say on The Lantern Fest Facebook page at: http://www.facebook.com/thelanternfest
About The Lantern Fest
Historically, Chinese Lanterns were used to symbolize good fortune, request favorable weather and celebrate the lives of loved ones. In 2014, The Lantern Fest transformed this ancient tradition into a family-friendly festival with food, music, s'mores, and children's entertainment. When the sun goes down lanterns will paint the sky in a spectacular release. The Lantern Fest is growing rapidly, and now holds events all over the country.