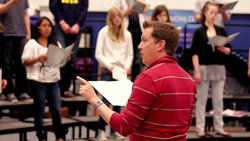 Los Angeles, CA (PRWEB) December 09, 2015
The NewFilmmakers LA Film Festival December event includes a shorts program, a feature-length documentary, and an animated feature film. Though the films vary in their method of storytelling, they each highlight that struggles, no matter how big or small, are often easier to overcome with the help of friends and family. In between films, audiences can check out filmmaker Q&As or meet and mingle with one another in the premium AT&T Center lounge and balcony over cocktails. Details on the featured films playing at the film fest can be found below.
Shorts Program
Akash - Directed by Sri Charan
Faced with her bible abiding, hard working father's failing health and his inability to provide for her education, eight-year-old Bargavi learns the ways of courage and hope by giving us an unapologetic and honest account of her life in Chennai slums.
In May 2014, writer/director Sri Charan started the Clean Slate Foundation with the intention of promoting education among underprivileged children through the art of filmmaking. He decided to make films about them by involving them in the process of writing their own stories. Akash is the first film that came out of Clean Slate Foundation. It pays tribute to the courage and hope of the children of the slums, who on a daily basis face the danger of losing it all.
Shadow - Directed by Mia Resella
Shadow is a hand-drawn animated short about a boy and his shadow getting into mischief past their bedtime.
Mia Resella is a Los Angeles based film director, writer and artist specializing in animation, comedy, and sci-fi/fantasy in film, television, and new media. She has worked as a writer in television, shorts, and webseries, such as Social Medium, The Red Shirt Diaries, and the upcoming Future Girl. Resella is most known for being part of the web duo 2 Broke Geeks, formerly part of Felicia Day's Geek & Sundrynetwork.
Most often a writer, Resella makes her directorial debut with Shadow, which celebrates its world premiere with NewFilmmakers LA.
Where is the Silent Majority - Directed by Cassie Shao
Where is the Silent Majority is a hand-drawn character animation about a revolution of half-breeds against the tyranny of humans, lead by their self-loathing human prince.
Cassie Shao is an animator originally from China, grew up in New Zealand, and received Bachelor of Fine Arts degree at School of the Art Institute of Chicago. She completed her first student film, Where Is the Silent Majority, in July 2015. It is a digitally colored, hand-drawn character animation against 3D backgrounds.
The independent film reveals the memory of a human prince who leads a revolution of half-breeds against the tyranny of humans, as it explains the path of him becoming the worst enemy of his dearest father.
Persuasion - Directed by Mattson Tomlin
When his adopted son displays a mysterious ability, Mark Seever begins a secret investigation to uncover the truth of his son's past.
Mattson Tomlin has worked on over fifteen independent films, most often as a writer/director. He is most known for a short he wrote and directed in 2009, titled Solomon Grundy, which was later developed into a feature by the same name in 2013.
Tomlin said Persuasion was inspired by real-world tragedy and wanted to made an effort to take the superhero genre and ground it back in reality. He wanted to create a reality in which the characters would be allowed to react to extreme situations the way any average person might.
Death has a Son - Directed Zack Ogle
Death gets more than he bargained for when a woman trades sex for her life. Now he's spending the day with the bastard son he never wanted. Things are looking grim.
Writer/Director, Zack Ogle graduated from Florida State University with a BFA in Film. He enjoys mixing humor with a healthy dose of death, sex, and tears, as seen in his films Polterghost, Cavities of War: A Dental Musical, and Bunny Love. Death has a Son won Best Director at San Francisco Frozen International Film Festival 2014 and Best of Brouhaha 2014.
Documentary Feature Program
Big Voice - Directed by Varda Bar-Kar
BIG VOICE is a musical documentary film that chronicles a year in the life of high school choir director Jeffe Huls and his most advanced ensemble. Mr. Huls' passion for the choral arts and music literacy fuels his desire to exceed all standards and expectations. The results are hard won, yet exquisite.
Funded through Kickstarter in October 2011, reaching 107% of their goal, Big Voice became a reality. The film complies musical performances as it interweaves slices of life, interviews, and multi-camera coverage of masterwork performances to create a dynamic and fascinating styled documentary.
Varda Bar-Kar is a director and writer, known for Runaway Stars (2008), Big Voice (2015) and Ode to Los Angeles (2011).
Feature Film Program
Jarthur the Alien - Directed Tyler Holtman
Jarthur the alien blob lands in Cheese Heights looking for energy for his planet, which he calls 'noonon.' He meets Alan the Scientist and the enthusiastic Lydia Lizard, who help him on his mission to save his planet.
Director/Animator, Tyler Holtman, is has been making movies since age eight, and studied film at Chapman University. He has been making animations for five years, and Jarthur is his most significant project so far, launching as a web series in May 2014. Utilizing rotoscoping to animate each episode, Holtman brings life to his creations. The music for the series is composed by his father, Steve Holtman, who is most know of the Despicable Me franchise.
The web series is funded through crowdfunding. Fans can have themselves animated into the Jarthur-universe for a donation.
Located in Downtown LA, AT&T Center is the Presenting Venue Sponsor of NewFilmmakers LA (NFMLA). Founded in 2007, NFMLA has screened over 1250+ films from over 63 countries. The organization provides a forum where filmmakers can be recognized with title supporters Sony Pictures Entertainment, TheWrap, SAG-AFTRA, and FilmLA.
For information or to reserve tickets to the NewFilmmakers LA December 12th 2015 screening, please visit http://www.nfmla.org