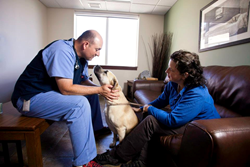 We have several departments and are a 24 hour service, this is why Aladtec is such a good fit.
St. Paul, MN (PRWEB) December 09, 2015
Scheduling and managing 100 employees is a lot of work, especially when using a spreadsheet to schedule them all. The Animal Emergency & Referral Center of Minnesota (AERC) has two animal hospitals which are open 24 hours a day - seven days a week. They discovered Aladtec's online employee scheduling and workforce management system offered everything they needed to effectively schedule and manage their large staff via the Internet.
"When we were using Excel spreadsheets, it became too cumbersome to maintain so many different team schedules and have them all be centrally accessible," explains Jayde Quigley, who is COO at AERC. "We comparison shopped and found no other company really offered the same features we needed like Aladtec does. We have several departments and are a 24 hour service, this is why Aladtec is such a good fit. Most other scheduling programs are tailored to an office environment not a business which needs to be staffed around the clock."
Quigley indicates the time supervisors spent scheduling staff was greatly reduced after switching to Aladtec - it went from 20 hours a week down to only about six. She also estimates Aladtec will save them up to $9,000 a year in scheduling associated labor costs.
In addition to scheduling with Aladtec, AERC also uses it to run reports and manage office forms. "We now keep all our forms within our Aladtec system. We use the Forms feature for incident reports, position changes, reimbursement submissions and IT requests," adds Quigley. By keeping forms online, they can easily be submitted, reviewed, stored and readily available for anyone who's granted access to them. This also eliminates paper waste, losing forms and file storage onsite. Because Aladtec is available 24/7 from any computer, smartphone or mobile device, AERC is able to access their forms, and their schedule, at anytime from anywhere.
About The Animal Emergency & Referral Center of Minnesota: It was established over 30 years ago by a group of veterinarians who wanted to provide their clients with quality veterinary care during non-business hours. Starting with just one clinic, one veterinarian, and one technician, today, they employ a wide variety of doctors and health care team members – all trained in pet emergency, surgery, cardiology, dermatology, physical rehabilitation, pet dentistry, and internal medicine. Their hospitals are located in St. Paul and Oakdale, Minnesota.
About Aladtec: They proudly provide online employee scheduling and workforce management software to over 1,500 organizations, primarily within the Public Safety Sector. These customers count on Aladtec every day to help them save time and improve efficiency. For information about their affordable industry specific options, or to try a free trial, please visit http://www.aladtec.com.
CONTACT INFORMATION:
Aladtec, Inc.
906 Dominion Drive
Hudson, WI 54016-4538
(888) 749-5550 Toll-Free
(715) 690-2300 Phone
(801) 406-5550 Fax
mellissa(at)aladtec.com
info(at)aladtec.com http://www.aladtec.com