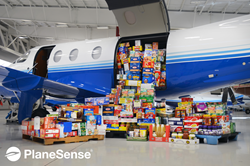 Portsmouth, NH (PRWEB) December 09, 2015
PlaneSense, Inc., a fractional aircraft ownership company based in Portsmouth, NH, collected over 7,000 pounds of food for the NH Food Bank. The PlaneSense® team then filled a Pilatus PC-12 with the food, and it was flown to the Manchester Boston Regional Airport today. Manchester, NH Mayor Ted Gatsas, Chairman of the Pease Development Authority, George Bald, and Executive Director of the Pease Development Authority, Dave Mullen, personally greeted the aircraft full of food.
NH Food Bank executives and members of its advisory board were also on hand at Signature Aviation to gather the food for distribution. Mayor Gatsas, and PlaneSense, Inc. President and CEO George Antoniadis (who piloted the plane) helped to load the NH Food Bank vehicle with the non-perishables. The remainder of the food was brought by truck and delivered to the Food Bank.
"The New Hampshire Food Bank works with more than 400 partner agencies throughout the State of New Hampshire, reaching so many families in need," Antoniadis said. "We are pleased to be able to help for a second year in a row, and I am very proud that our employees and their families contributed substantially to this food drive. We are also delighted that community members and our friends at Pilatus Business Aircraft, the Pease Development Authority, BoldIQ, Constant Aviation, and businesses on Pease Tradeport, including Teledyne and Medtronic Advanced Energy, have given donations to help as well."
This is the company's second year flying a PC-12 full of food in support of the NH Food Bank. Last year's donations totaled around 800 pounds of food, which provided over 600 meals. This year's donations will provide over 5,800 meals.
"It is my great pleasure to be here with the New Hampshire Food Bank for the second year in a row, to help accept and thank the PlaneSense team for being so giving during the holiday season" Mayor Gatsas said. "Their donations today will give so many Queen City and New Hampshire residents a wonderful meal this holiday season. I am truly appreciative of their dedication to our local and state communities."
According to Mel Gosselin, the Executive Director of the NH Food Bank, the food will be brought back to the Manchester, NH facility and sorted into categories. It will then be placed into the NH Food Bank's online ordering system and later dispersed accordingly to help feed over 140,000 NH residents who are food insecure.
"We applaud PlaneSense employees and their families for generously partnering with the NH Food Bank on a food drive for the second year in a row," said Gosselin. "The holidays and winter months can be a very difficult time for those who are faced with 'Eat or Heat' decisions by the limitations of their resources."
Antoniadis said that while filling an airplane – and in this case, needing "supplement lift" in the form of a truck to carry the excess food donations – was the initial goal, increasing the public's exposure to the needs of the New Hampshire Food Bank was an equally important result of the holiday food drive.
For more information on fractional shares with the PlaneSense® program, visit PlaneSense, Inc. online at http://www.planesense.com.
About:
PlaneSense, Inc. is a fractional aircraft ownership program based in Portsmouth, NH, that has been in operation since 1995. The PlaneSense® program manages the largest civilian fleet of Pilatus PC-12 aircraft in the world, and has more experience with the PC-12 than any other aircraft management and maintenance team. PlaneSense, Inc. has also placed the largest launch agreement order for six new Pilatus PC-24 jets.
Offering optimal access to many airports, and fractional owner flexibility that suits any flying profile, the PlaneSense program offers compelling value through affordable pricing, world-class service, and a practical, comfortable aircraft.