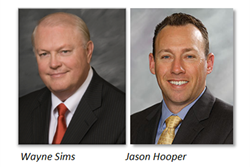 Olathe, KS (PRWEB) December 09, 2015
KVC Health Systems CEO Wayne Sims will retire at the end of the month after 35 years of leading the national nonprofit child welfare and behavioral healthcare organization. President Jason Hooper, previously President of KVC Hospitals, will succeed Sims as CEO effective January 1, 2016. Sims will remain on the board of directors.
Sims became the leader of KVC in 1980. In the past 35 years, he has grown the organization exponentially from a single home serving a handful of at-risk boys in Kansas City, Kan. to a $135-million national organization serving nearly 60,000 children and families each year in Kansas, Nebraska, Kentucky and West Virginia and impacting thousands more through consultation, training and research.
KVC's broad continuum of services includes inpatient psychiatric hospitals, outpatient behavioral healthcare, foster care case management and child placing, adoption, youth substance abuse treatment and in-home family therapy. The Joint Commission, considered the gold standard in healthcare, has accredited KVC Health Systems and its subsidiaries. KVC is internationally recognized for integrating trauma-informed care to child welfare and related systems. As a result of KVC's unique family-centered practice model which uses evidence-based practices to achieve strong outcomes, the Annie E. Casey Foundation recognized KVC as one of only four national best-practice organizations in the country.
Under Sims' direction, KVC played a leadership role in pioneering child welfare system reform in Kansas when, in 1996, it became the first state to fully privatize children's services. Due to the successful outcomes achieved through this public/private partnership and other work, KVC has earned opportunities to provide consultation to other states and private organizations. Sims gave the keynote presentation at a government-sponsored child welfare conference in the Southeast Asian country of Singapore, and has provided consultation to Singapore leaders on how to shift from orphanages to community-based care of children.
Over three and a half decades, Sims grew the organization's annual operating budget from $200,000 to $135 million. KVC currently employs over 1,300 people including doctors, nurses, social workers, therapists, and family support workers. He shaped the culture by instilling values such as "What would you want for your child?" and "Excellence is not an act; it's a habit."
KVC's board of directors recently honored Sims by naming an expanded wing on its Olathe, Kan. headquarters as the "KVC Sims Family Center." The Center is part of the larger KVC Institute for Health Systems Innovation which impacts the fields of child welfare, medical and behavioral healthcare, and juvenile justice. See http://www.kvc.org/institute.
New CEO Jason Hooper has been with KVC for over 20 years. In his previous role as President of KVC Hospitals, he managed a psychiatric hospital system that each year serves thousands of children and adolescents who struggle with depression, anxiety, trauma, substance abuse, suicidal thoughts and feelings of violence. The population of youth served by KVC Hospitals is clinically and medically complex and requires innovative, evidence-based treatment approaches to ensure immediate safety and long-term wellbeing. In the last seven years, Hooper exponentially increased KVC Hospitals' revenue and diversified the client base to serve private families and military family members in addition to children in the child welfare system. These positive business changes came about while achieving strong safety and wellbeing outcomes such as safely reducing lengths of stay, increasing child stability after discharge, and maintaining a low readmission rate. Hooper has also expanded KVC Hospitals' consultation and community education, with its core leadership team of experts and its thriving learning environment that trains over 150 students each year. See http://www.kvchospitals.org.
Hooper is a forward-thinker and a visionary, eager to lead national trends in areas such as the integration of medical and behavioral healthcare, the unfolding lessons of neuroscience, the importance of evidence-based practices, and the need to innovate constantly. He champions a culture that is trauma-informed, technology-based, team-oriented and unafraid to lean into the curve. In addition to KVC Hospitals where he started years ago as a behavioral health technician, he has also worked for KVC Kansas as a case manager, resource coordinator and administrative director and for KVC West Virginia as Executive Director.
On Twitter, follow KVC at @kvckids and Jason Hooper at @jasonrhooper. Learn more at http://www.kvc.org.
About KVC Health Systems, Inc.
KVC Health Systems, headquartered in the greater Kansas City area, is a private, nonprofit 501(c)3 organization that enriches and enhances the lives of nearly 60,000 children and families each year by providing medical and behavioral healthcare, social services, and education. KVC's diverse continuum of services includes foster care, adoption, in-home family therapy, behavioral healthcare, youth substance abuse treatment and psychiatric hospitals. In its 45-year history, KVC has grown since from a single Kansas home for boys to a national organization serving tens of thousands of children in five states. Due to KVC's leadership in the use of research-based practices to improve outcomes, the Annie E. Casey Foundation has endorsed KVC as a national best practice organization. Learn more at http://www.kvc.org.