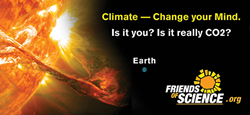 'What is it with global warming extremists wanting to make it illegal for you to disagree with them.' - Ezra Levant, The Rebel Media
Calgary, Alberta, Canada (PRWEB) December 10, 2015
Dec. 10, 2015 is UN Human Rights Day, and Friends of Science Society has sent an open letter to Canadian author and human rights activist, Margaret Atwood, Vice President of PEN International, asking for support for climate change dissidents who are facing challenges to their freedom of speech by the Canadian charity Ecojustice. The open letter has been filed on the Friends of Science Society blog.
On Dec. 3, 2015, the National Observer reported that Canadian charity Ecojustice had filed a request for inquiry with the Competition Bureau against Friends of Science Society, claiming that the Friends of Science billboard campaign constituted false and misleading advertising. Ecojustice posted the entirety of their complaint filing online.
Media response to the story has been rapid with the Calgary Herald writing an editorial entitled "Climate change and free speech," on Dec. 9, 2015, in support.
CBC Saskatchewan covered the story from the angle of a local woman who wanted the billboards removed, as reported on Dec. 8, 2015 (LINK: cbc.ca/news/canada/saskatoon/co2-skeptic-group-takes-heat-over-billboards-in-saskatoon-other-cities-1.3356274).
Canadian independent reporter Ezra Levant of The Rebel Media webcast the story on Dec. 8, 2015.
The Blaze ran "The Climate Change Inquisition is Upon Us" on Dec. 9, 2015 (LINK: theblaze.com/contributions/the-climate-change-inquisition-is-upon-us/).
Troy Media published "Dissent is the cornerstone of the scientific process" on Dec. 8, 2015 (LINK: troymedia.com/2015/12/08/dissent-the-cornerstone-of-the-scientific-process/).
Friends of Science Society invites the public to comment on the billboards or this issue on their Wordpress blog-Friends of Science Calgary. Comments are moderated.
About
Friends of Science has spent a decade reviewing a broad spectrum of literature on climate change and have concluded the sun is the main driver of climate change, not carbon dioxide (CO2). Friends of Science is made up of a growing group of earth, atmospheric and solar scientists, engineers, and citizens.
Friends of Science Society
P.O. Box 23167, Mission P.O.
Calgary, Alberta
Canada T2S 3B1
Toll-free Telephone: 888-789-9597 FREE
Web: friendsofscience.org
E-mail: contact(at)friendsofscience(dot)org