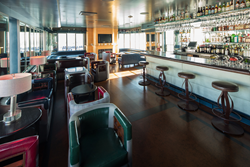 Hotel Shangri-la's spectacular Suite 700 rooftop bar and lounge is the hottest place to ring in the new year
Santa Monica, CA (PRWEB) December 10, 2015
Get ready to ring in the New Year at Hotel Shangri-la's popular Suite 700 in Santa Monica. Enjoy an exciting New Year's Eve Black & White Masquerade Party at the only indoor/outdoor rooftop bar and lounge that features amazing 180 degree views of the Santa Monica skyline and Pacific Ocean.
New Year's Eve Black & White Masquerade Party
Starting at 8pm, listen to the iconic sounds of DJ Jay Strongman, one of the original legends of the British club scene who always mixes the coolest contemporary sounds with his own choice of World Music grooves, retro tunes, and undiscovered dance gems for the most important evening of the year. Enjoy a welcome glass of champagne upon arrival, complimentary bites during the night and a midnight champagne toast to celebrate the arrival of 2016. Tickets are limited and can be purchased for $65* per person via phone at 310.451.0717 or online here.
New Year's Dining
For guests who want to start New Year's eve with dinner before the festivities, Hotel Shangri-la's ocean view Dining Room is offering two seatings for a pre-celebration dinner. First seating reservations are available between 5pm and 7:30pm for a delicious three-course prix fixe dinner for $60* per person.
Reservations for the late seating are available between 8pm and 10pm and offer a four-course prix fixe dinner with a complimentary glass of champagne for $95* per person.
Start 2016 off right with New Year's Day dining while watching the shores of the Pacific. From 11am to 10pm, enjoy a three-course prix fixe menu that includes a selection of fine dining choices for $65 per person. For youngsters 12 and under, there is a children's menu for $30*.
Christmas Eve and Christmas Day Dining
The Dining Room is also serving a delicious holiday dinner on Christmas Eve from 5pm to 10pm. Choose from a three-course prix fixe menu for $60* per person or a four-course meal for $75*.
On Christmas Day, relax in luxurious surroundings with a three-course prix fixe meal served from 11am to 10pm. Adults are $65* per person and children 12 and under are $30* each.
To take advantage of the best in Christmas and New Year's dining and partying, reservations can be made by calling 310.451.0717 or visit http://www.shangrila-hotel.com/dining-nightlife.
*Prices exclude tax and gratuity.
About Hotel Shangri-la
The original and urbane Hotel Shangri-la in Santa Monica is anything but ordinary and a member of Small Luxury Hotels of the World. Overlooking the Pacific since 1939, the hotel is a striking beacon of Art Deco elegance, a chronicle of the golden era of Hollywood and a quintessential nexus of culture. Hidden away on a high Santa Monica bluff overlooking the ocean and historic Santa Monica Pier, this timeless luxury boutique hotel promises guests their own personal Shangrila. Guests enjoy brilliant views of the Pacific Ocean, a celebrated history and a cultural connection during their stay. In the U.S., for toll-free room reservations only, please call (800) 345-STAY (7829) or for more information, visit http://www.Shangrila-Hotel.com.