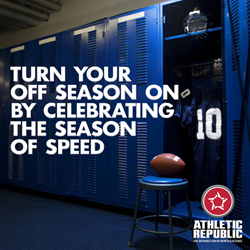 The athlete needs to make time during the year for a 'training season'
Park City, Utah (PRWEB) December 21, 2015
The football season has brought highlights, Heisman finalists, a National Playoff, power rankings, fantasy match-ups and games of the week. It also included commercials from the leading footwear and sports apparel companies. While the season has been marked with impressive upsets, the athletic commercials have had a similar message, all revolving around a common theme: buy their product and 'train harder.'
Every athlete recognizes that training and preparation are part of sport. But with the level of competition rising and more athletes interested in making the team, earning more playing time, or taking their game to the next level, athletes recognize they must do more than train with their team. The commercials all show athletes sweating, sprinting, lifting and perfecting their skill, insinuating that training in their products makes you a winner. Their gear may very well make a difference, but it doesn't replace training and preparation. Over the years, it's been easy to embrace 'Just do it' as a call to action. But from a training perspective, the aspiring athlete is left wondering, 'Just do what?'
Over the past 25 years, Athletic Republic's training centers have helped more than one million athletes - get selected for a team, move off the bench and on to the field, earn a college scholarship, stand-out in the draft, make a professional or Olympic team, post a PR, or honor a New Year's resolution. Throughout the training process, AR has documented each athlete's progress and is now sharing five elements that will help aspiring athletes improve their training plans or better understand just what to do.
These elements are: increase speed, build power, improve stability, maintain an effective recovery approach, and all in a year-round approach to training.
1. Lead with speed. Speed is a defining attribute of athleticism, and developing it requires a focus on training. No longer considered a genetic gift, speed can be improved by training stride length, stride frequency, power output, symmetry, and stamina. Speed training should improve running mechanics and running economy while developing acceleration, top-end speed and endurance to help players create separation, close a gap, and play as well during the closing minutes as they do when the game started.
2. Power is not strength. Science says Power = Force x Velocity. In other words, being strong is only half the equation. The ability to produce more force more quickly than an opponent is what ultimately separates an athlete from the competition. To jump higher, accelerate quicker, deliver a crushing blow, or move at warp speed…the instant the ball is in play, the athlete needs power. The key is to combine a wide range of movement velocities, with a variety of age-appropriate loads, to safely expose muscles to training that will improve power at game speed.
3. Stability reduces the risk of injury. Agility hinges on an athlete's ability to control his or her center of gravity in all situations, including making quicker cuts and turns, maneuvering in traffic and maintaining position during a double team. Stability means maintaining control of the body in all directions and in all situations. It's developed by building strength through a progression of plyometric movements to improve foot-speed and balance while training the core and hip girdle for the safe transfer of power to the turf, dirt, floor, ice or water.
4. Remember recovery. Preparing for the next workout begins when an athlete completes the current workout. Fluid hydration and mobility exercises begin the process as range of motion is increased while the muscles are warm and supple. Compression helps flush lactate and soreness, while protein helps rebuild muscles. Getting enough sleep and sufficient rest are also critical elements on the recovery process.
5. Establish a year-round plan. In addition to training with the team or coach, the athlete needs to make time during the year for a "training season". Dedicating time prior to the start of a season to build on athletic strengths and concentrate on areas that require improvement will improve game-day or race-day performance. For the teen athlete playing multiple sports, the parents serve as the Athletic Director of the household, managing and balancing practice schedules, transportation, events, meals, academics, and budget, as their athlete's coaches typically do not work with one another to ensure the athlete's year-round regiment is conducive to their development. For the Parent/AD the key is to focus on their athlete's overall development and make sure to establish a big-picture plan that includes the dedicated time to improve speed, power, and stability. For the endurance athlete, establishing objectives for off-season, pre-season, and in-season training will raise their endurance base, build power, improve efficiency, reduce the risk of injury, and increase speed for better race-day performances.
Athletes from pee-wee to pro have incorporated these five elements into their training in order to gain a step on their competition and be in a better position to 'Just Do It'.