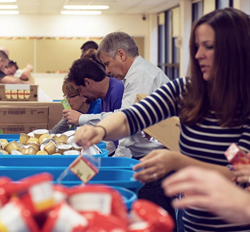 Pittsburgh, PA (PRWEB) December 15, 2015
Pipitone Group, an Observatory Hill-based integrated marketing communications firm, has announced the launch of its C.A.N. (Community and Nourishment) initiative.
On behalf of its clients, the firm has made a contribution to the Greater Pittsburgh Community Food Bank, which will cover 41 weeks of the FOCUS Pittsburgh Backpack Feeding program at nearby Perry Traditional Academy, amounting to approximately 5,100 meals. On Nov. 19, Pipitone Group employees also joined volunteers from FOCUS Pittsburgh at Oliver Citywide Academy on Pittsburgh's North Side to help prepare that week's packages. The company will continue to volunteer on a quarterly basis.
The FOCUS Pittsburgh Backpack program provides weekend meals to over 2,300 food-insecure children every week. According to the Greater Pittsburgh Community Food Bank, over 175,000 people in Allegheny County are considered food-insecure, including over 45,000 children. In fiscal year 2013-2014, the food bank distributed over 15 million pounds of food throughout the county.
Throughout the holidays, over 500 Pipitone Group clients and partners will receive customized gift packages, including a "C.A.N." branded can and tote bag, encouraging them to make their own contributions to local food banks. Individuals and organizations alike can learn more about the C.A.N. initiative at pipitonegroup.com/can.
Pipitone Group has displayed commitment to bettering the Pittsburgh community in recent years through its annual community service days and its Marketing for Good program, which has provided pro-bono marketing services to local organizations amounting to hundreds of thousands of dollars of in-kind contributions to-date.
"When we talk about giving gifts during the holidays, we usually think about the ones we give to our friends, family and colleagues," says Pipitone Group CEO Scott Pipitone. "But there are thousands of hungry people in our county. Access to food isn't a given for them—not now or any time of year, for that matter. We can do something about it. We all can."
# # #
About Pipitone Group
Pipitone Group is an award-winning, Pittsburgh-based integrated marketing and communications firm. Known for its collaborative, "inteGREAT" approach, Pipitone Group for over 20 years has produced strategic, creative marketing campaigns for clients in industries such as commercial building products, education, nonprofit, technology services and health care. Founded in 1992, Pipitone Group has grown into one of the region's most dynamic mid-sized agencies. Learn more at http://www.pipitonegroup.com.
Media Contact
Ben Korman
Pipitone Group
412.321.0879
bkorman(at)pipitonegroup(dot)com