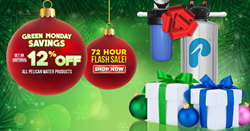 DeLand, Florida (PRWEB) December 11, 2015
Pelican Water Systems, an industry leader in eco-friendly products, announces its "Green Monday" sale.
The promotion, which goes live Saturday, December 12, 2015 at midnight, runs through Monday, December 14, 2015 at midnight, showcases Pelican's commitment to the "Go Green" spirit.
Pelican Water will kick off their promotion with a blanket 12% discount on all items, bringing total savings to up to 54% off of retail pricing.
Beginning Saturday at midnight, customers can start saving green by going green and purchasing any of Pelican Water's many environmentally friendly and water conservation products. Examples of products showcased in this promotion include:

Countertop Drinking Filter: Elegant and smart, the countertop drinking filter removes more than 60 contaminants from daily drinking water. The filter lasts through 450 gallons of water, roughly a six-month time frame.
Premium Shower Filter System: Save water in the shower with the innovative 2.0 GPM water flow. This filter is a breeze to install and lasts well through 15,000 gallons, needing replacement roughly once every 9 months.
Reverse Osmosis Filtration System: Featuring hygienically sealed filtration cartridges, this six-stage system fits easily under most kitchen counters and can be installed by anyone. This green design delivers 30% more flow to the faucet while cutting water waste down the drain by up to 50%.
Pelican's water systems all boast an environmentally friendly benefit, as Pelican Water places high importance on creating products that do not jeopardize a sustainable future. A member of the Water Quality Association, U.S. Green Building Council, and DVGW Certified, Pelican Water stands behind their promise to eliminate water and electricity waste as well as salt brine discharge into local water systems.
Promotional prices do not extend to previous purchases and cannot be combined with other discounts. Free shipping and no tax discounts will not apply to residents of Florida.
About Pelican Water
PelicanWater.com is the official, factory-direct retail website for Pelican Water Systems, providing professional knowledge and leading technologies in whole house water filtration, countertop water filtration systems, UV bacteria disinfection systems, as well as salt-free water softening and conditioning systems. Pelican Water products use cutting-edge technology and enable customers to go green by eliminating wasteful and harmful salt brine discharge that is polluting our valuable fresh water resources.
For over a decade, Pelican Water has stayed true to their mission statement: being a company that helps families enjoy cleaner, safer, better-tasting water in their homes in an environmentally-friendly way. Pelican Water has been and continues to be the global market leader in salt-free water softening system. For more information about Pelican Water Systems, visit PelicanWater.com.