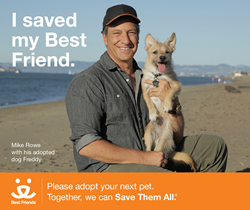 In truth, I can't imagine life without Freddy. He is a good boy, and the fact he came from the pound only makes him better . That is why I am pleased to participate in this campaign and promote the adoption of anything on four legs."
SAN FRANCISCO (PRWEB) December 11, 2015
While a scruffy little dog is busy pursuing the American dream of becoming the first canine elected president, his human -- often described as "the dirtiest man on TV" has a soft spot for four legged orphans.
Mike Rowe is known for his advocacy for the unsung heroes of America's workforce. On the TV show "Dirty Jobs" he travelled across the United States working as a good-humored apprentice on more than 300 different, unglamorous jobs. On his latest TV series, CNN's "Somebody's Gotta Do It ," Rowe introduces viewers to innovators, do-gooders, entrepreneurs, collectors and fanatics who march to the beat of a different drum and perform unique jobs. Rowe is also well known for narrating documentaries and television shows about everything from lions of the Serengeti to fisherman in the Aleutian Islands to the mysteries of the universe. In addition, he is CEO of the mikeroweWORKS Foundation, a 501(c)(3) public charity that has been instrumental in granting more than $3 million in education through its Work Ethic Scholarship Program for trade schools across the country.
None of which explains how a stray puppy found on the streets of San Francisco worked his way into Rowe's heart and home, and promptly took over. Now known as Freddy, this rescued pooch dominates Rowe's Facebook page and blog on Fridays. Freddy recently launched his bid for the presidency; his campaign platform has not been announced but it is fair to speculate that "a dog in every home, a cat on every couch" may be one of the planks. Like his biped Rowe, Freddy has not forgotten America's homeless dogs and cats.
"Freddy has come a long way since he was named by my friends on Facebook in a now infamous game of puppy poop bingo," Mike Rowe said. "He is now the model of canine obedience. 
"True, he still chews my shoes, terrorizes the poodle next door and pees all over me when I come home, but he has assured me that such proclivities are all part of his charm.  In truth, I can't imagine life without him.  He is a good boy, and the fact he came from the pound only makes him better.  That is why I am pleased to participate in this campaign and promote the adoption of anything on four legs."  
Rowe is participating in Best Friends' photo campaign, posed with Freddy, in support of the Save Them All call to action. Best Friends, the only national animal welfare organization dedicated exclusively to ending the killing of dogs and cats in America's shelters, has brought increased awareness to how people can get involved in the solution by adopting, and spaying/neutering their pets, donating, volunteering and sharing this message with their friends.
Mike Rowe joins Danny Trejo, Carrie Ann Inaba, Denise Richards, Nils Lofgren, Josef Newgarden, Amanda Seyfried, Cecily Strong, Maggie Q, Elisabeth Rohm, Lisa Edelstein, Tricia Helfer, Emmy Rossum, Michelle Beadle , Jack and Suzy Welch and other luminaries participating in Best Friends' photo campaign featuring celebrities posed with their personal rescued dogs and/or cats in support of the Save Them All call to action.
About Best Friends Animal Society®
Best Friends Animal Society is the only national animal welfare organization dedicated exclusively to ending the killing of dogs and cats in America's shelters. A leader in the no-kill movement, Best Friends runs the nation's largest no-kill sanctuary for companion animals, adoption centers and spay and neuter facilities in Los Angeles and Salt Lake City as well as lifesaving programs in partnership with more than 1,300 rescue groups and shelters across the country. Since its founding in 1984, Best Friends has helped reduce the number of animals killed in American shelters from 17 million per year to an estimated 4 million. By continuing to build effective initiatives that reduce the number of animals entering shelters and increase the number who find homes, Best Friends and its nationwide network of members and partners are working to Save Them All®.
To become a fan of Best Friends Animal Society on Facebook go to: http://www.facebook.com/bestfriendsanimalsociety
Follow Best Friends on Twitter: http://twitter.com/bestfriends
###