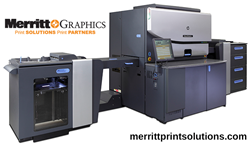 The diverse offerings were a selling point, but it was the quality of the print that tipped the scales in HP's favor.
Hartford, CT (PRWEB) December 15, 2015
The digital printing industry continues to grow and become a fierce competitor of offset printing. New technologies are continually being brought to market which improve the quality of print and the diversity of substrates available. According to HP's PPS market research from 2015, digital currently represents six percent of the 17.8 trillion graphics produced with several sources predicting this number to grow to fourteen percent by 2017.
Merritt Graphics Print Solutions was an early adopter of digital printing in 1988 and takes pride in offering up- to-date technologies to its customers. The HP Indigo digital offset press was purchased to replace their Xerox IGEN digital press. Purchasing the HP Indigo was a strategic move focused on growth. After researching and studying its current markets, it was determined that the HP Indigo press offered a larger range of capabilities and products as compared to other presses. The Indigo opens Merritt to new products, customers and markets. "The diverse offerings were a selling point, but it was the quality of the print that tipped the scales in HP's favor," says Ed Perry, President and CEO of Merritt. "The press can hit spot colors with 99% accuracy."
The Indigo offers advanced color matching through its IndiChrome inks. HP engineered this color matching technology to produce a wider and more accurate color gamut. IndiChrome expands the typical cyan, magenta, yellow and black, (CMYK), to include additional colors; in Merritt's case violet and orange. The seventh color on Merritt's press is white. Printing with white ink gives Merritt's customers more flexibility and options using dark and transparent substrates. For customers with the tightest of tolerances for their branding, Merritt can custom order Pantone® colors from Rochester Institute of Technology.
An additional benefit of the Indigo is its ability to print on plastics. Printing on plastics is an inherently difficult task. As the plastic moves through the printer it heats up and tends to stretch or skew the image. HP Indigo's unique One Shot Color printing process reduces the exposure to heat. The plastic is printed in literally one pass ensuring perfect registration for plastic card and other specialty applications. Merritt is excited to bring these new offerings to their existing clients and looks forward to developing new business and opportunities through this partnership with HP.
Merritt Graphics Print Solutions is the smaller-format printing division of Joseph Merritt Company, headquartered in Hartford, CT. The company currently serves markets including: insurance, social assistance, pharmaceutical and financial services, retail and tradeshow. Merritt Graphics uses advanced printing technologies and sources quality substrates to consistently deliver high-end results. In addition to print, Merritt offers direct mail, web to print and kitting and fulfillment services.
For more information on Merritt Graphics please visit http://www.merrittgraphics.com/print-solutions/home
To learn more about the HP Indigo please visit http://www8.hp.com/us/en/commercial-printers/indigo-presses/7800.html