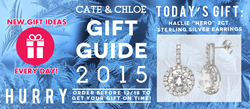 San Francisco, CA (PRWEB) December 14, 2015
Cate & Chloe are the experts of gift giving jewelry this season and has released their 2015 Holiday gift guide of their best sellers and iconic Swarovski pieces. The gift guide is tailored to the women we all know and love: the girl who has everything, the trendsetter, that special someone & much more!
As an added bonus, a featured jewelry piece will be released daily at the lowest prices starting on Monday and will run through Friday. Orders placed by December 18th will guaranteed shipping before Christmas.
Cate & Chloe partnered up with celebrity Jenny McCarthy for #JennysBox, a special subscription box collaboration of McCarthy's hand selected jewelry pieces. A perfect gift idea for yourself or a loved one, 10% sales will also be donated to McCarthy's autism organization, Generation Rescue.