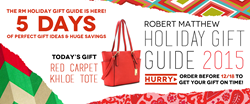 San Francisco, CA (PRWEB) December 14, 2015
With this season welcoming trendy fashion at notably low prices, Robert Matthew handbags closes out the holiday season with daily discounts, best sellers and new releases running all week long this Monday through Friday.
A new item will be released each week with the lowest discounts, just in time to knock off the season's gifting season. With the release of Robert Matthew's 2015 holiday gift guide, you can shop for the perfect gift for the girl we all know: the girl who sticks to the classics, the "It" girl, the life of the party. Shop jewelry, gifts, and more.
For orders to arrive in timely fashion, orders placed by December 18th will be guaranteed shipment before Christmas.