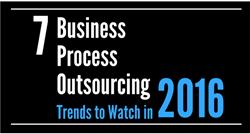 El Paso, Texas (PRWEB) December 12, 2015
DATAMARK, Inc., a leading provider of business process solutions, including bilingual (English/Spanish) contact center services, recently announced the release of a new infographic, "7 Business Process Outsourcing Trends to Watch in 2016."
Below are the first 3 BPO trends:
1. The Philippines Phenomenon
A low cost of living and a young, educated and English-speaking workforce continues to draw BPO to the Southeast Asian island country. The Philippines will continue to shake up the Top 10 worldwide outsourcing destinations, now dominated mostly by Indian cities. In 2015, Manila grabbed the No. 2 ranking in the Tholons 100, pushing Mumbai down a rung. However, the government will have to address an infrastructure strained by rapid growth.
2. Risk Management Put to the Test
Natural disasters, such as the 2015 South India floods, are among the factors driving businesses to address the risks related to outsourcing. Multiple site visits by clients throughout the year to inspect work quality and to review disaster recovery and business continuity plans will become the norm. To test BC/DR, companies may intentionally, and without notice, "pull the plug" to see if the provider can quickly re-route work to delivery centers in other locations.
3. Long-Term Partnerships Explore Capability vs. Ability
Many successful outsourcing engagements have settled into comfortable relationships, some going on for decades now. Having proven their ability over time, service providers are looked upon as long-term partners. Familiar with a company's core business and culture, providers are now offering clients management consulting process improvement services. Similarly, companies are asking for more provider capability: Can they take on higher-skill processes? Can they handle both the back office and the front office?
The complete "7 Business Process Outsourcing Trends to Watch in 2016" infographic is available on DATAMARK's "Outsourcing Insights" blog at this link:
About DATAMARK
Celebrating its 25th year in business in 2015, DATAMARK, Inc. is a leading business process outsourcing company specializing in high-volume digital mailroom management, document processing/document management, bilingual (English/Spanish) contact centers and process improvement consulting for Fortune 500 companies and other large enterprises.
Headquartered in El Paso, Texas, DATAMARK employs nearly 2,200 people in its U.S., Mexico and India facilities. For more information, visit http://www.datamark.net. Follow industry news and trends at DATAMARK's Outsourcing Insights blog at http://www.datamark.net/blog.