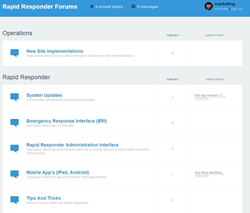 This is great opportunity for our customers to share and learn Rapid Responder best practices from one another.
Kirkland, WA (PRWEB) December 15, 2015
Prepared Response, Inc.® has just announced their newest channel of customer engagement for Rapid Responder users by opening a new customer forum. Rapid Responder Forums is a place where end users can go to connect with other users, share unique ways to use the system, and can be used as an additional avenue for customer support. Rapid Responder users will find a variety of threads to post to and read from, which will cover system updates, the Emergency Response Interface, the Administrative Interface, mobile apps, and tips and tricks. A feature requests thread is also available for customers to submit ideas and needs for future system updates.
"This is great opportunity for our customers to share and learn Rapid Responder best practices from one another," says Tobey Bryant, Chief Executive Officer of Prepared Response, Inc. "We are excited to have another platform to learn from our customers in order to continually improve our products to meet their needs."
Customers can access the Rapid Responder Forums from a link within the Administrative Interface of Rapid Responder. After logging into Rapid Responder, users are authenticated with API and will not be required to enter additional login information when entering the forums. Customers will be able to interact with one another by adding or creating new topics inside any thread, and can also watch threads of interest where they will be emailed an alert when someone replies.
"I'm looking forward to seeing how our site users and responders are able to help each other with questions about Rapid Responder," says Rachel Lugo, Prepared Response, Inc. Operations Manager. "My team and I will also be active in the forums to answer questions and contribute to customer threads. We have many users across the nation and the forum has the potential to be a one-of-a-kind discussion platform for safety best practices and Rapid Responder features."
Rapid Responder is an all-hazards site-based crisis management system that protects over 16,000 facilities nationwide by providing facility stakeholders and first responder's instant access to site specific emergency response information. Site information includes floor plans, aerial views, site maps, hazardous material locations, utility shut off information, emergency and evacuation plans, and live camera feed. Rapid Responder is SAFETY Act Certified by the U.S. Department of Homeland Security, and has been successfully used during active shooter events, bomb threats, lock downs, and other emergency situations.
Media Contact
For further information, please contact:
Prepared Response, Inc.
Samantha Caron
scaron(at)preparedresponse(dot)com
253.363.8561
About Prepared Response Inc.
Prepared Response Inc. is the leading innovator of emergency preparedness and crisis management solutions in the nation. For over a decade, Prepared Response has provided industry leading technology and consulting services that have been proven to save lives and mitigate property damage. The company's flagship product, Rapid Responder, is used by over 1,300 public safety agencies nationwide and is SAFETY Act Certified by the U.S. Department of Homeland Security as a Qualified Anti-Terrorism Technology, along with being endorsed by the National Sheriffs' Association. Rapid Responder is currently deployed in educational facilities, public buildings, critical infrastructure and private facilities across the U.S.
The privately held company is headquartered in Kirkland, Washington. Additional information can be found at http://www.preparedresponse.com or by calling 1-866-862-7741.