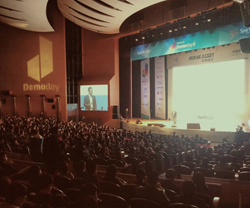 Seoul, South Korea (PRWEB) December 12, 2015
SparkLabs (http://www.sparklabs.co.kr), Asia's leading startup accelerator, is hosting their sixth demo day in Seoul, Korea. The accelerator was founded in early 2012 and launched their first batch during December 2012. The program's reputation has rapidly grown and now their sixth demo day, which is just a half-day event, has over 2,300 people registered. Attendees are expected from Indonesia, Hong Kong, China, Japan, Taiwan, U.S. and other countries along with over 450 investors.
"The energy in Korea and Asia is amazing. We are seeing people leaving the comforts of Samsung, McKinsey, and Goldman Sachs to become entrepreneurs. The typical standards of success are being rewritten as many in Korea want to become the next Mark Zuckerberg or the next world changer," explained Frank Meehan, a Partner at SparkLabs.
"This 6th batch was overall at an earlier stage than prior classes. It took more engagement and guidance from us, but also more enjoyable in some ways. We are really proud of this class," stated Sophia Choi, Senior Associate at SparkLabs.
For SparkLabs' sixth batch, seven companies will be graduating and presenting:
Wahome. WaHome is the #1 home cleaning service for any type of household in Seoul. With a simple smart phone application, customers and helpers are matched easily on a real-time basis. For customer safety and assurance, all registered helpers are fully background checked and go through a rigorous training program. WAHOME plans to expand to Japan and Hong Kong in 2016.
Blocko. Blocko's product "CoinStack" is a blockchain-based BaaS (Backend as a Service) and development platform focused on building decentralized services for a range of industries. The Coinstack SDK allows developers to access Blockchain technology through a cloud-based platform and build new ideas productively within the existing Blockchain infrastructure. Client needs for implementation and adoption of Blockchain technology are taken care of automatically behind the scenes, which allow development teams to focus fully on their services. Coinstack is already in various stages of use by enterprise companies in Korea such as Cisco, LG CNS, and Shinhan Bank, and intends to begin strategic expansion to other geographies in 2016.
Amadas. AMADAS is a smart lever lock company developed from Seoul National University's Institute of Advanced Machinery and Design. Their smart lever lock can be easily installed to various door types at home, office buildings, other locations by simply replacing handles of existing doors. AMADAS' goal is to make their customers' lives safer while providing easy to use high-quality products.
Next Makers. NextMakers is a marketplace that makes it easy for brands to collaborate with social influencers and content creators to carry out advertising campaigns. With 3,000+ influencers signed up and currently reaching 140M+ followers, the service successfully completed campaigns with major Korean brands such as Nexon, LG, and Camp Mobile. NextMakers is currently concentrating on the beauty and technology industries.
Sentbe. Sentbe provides an easy to use and innovative service for international remittances. The service allows customers to process remittance requests in under a minute and also reduces up to 90% of remittance fees charged by standard banks. Furthermore, regardless of the country, recipients can receive transferred funds typically within an hour of remittance requests. In the four weeks since SENTBE launched, it has conducted transactions valuing over US$150,000 with a repeat user rate of 80% thus far. The service is also working with KEB Hana Bank, one of the largest financial institutions in Korea, to create an advanced service for international remittance.
Picpic. PicPic is a GIF creation and sharing service with a vision to become the premier global hub for all GIF content. With outstanding GIF technology and an easy-to-use user interface, PicPic provides diverse editing functions such as speed adjustment, backwards playback, partial GIFs, and meme creation while creating GIFs 18 times faster than other popular GIF applications. Users can enjoy GIFs by following their friends or searching for content by hashtag. At present, PicPic is the only application that can directly share user-created GIFs on Facebook. PicPic is available on Android, iOS, and the Web.
Big Brain Lab (Chartmetric). ChartMetric is a modern approach to tracking, measuring, and analyzing music data for music makers, labels, and marketers. The company's engine collects music ranking and performance data from local charts as well as global music streaming services such as iTunes, Spotify, and Youtube. They use machine learning and natural language processing to organize and derive actionable insights. ChartMetric also collects social media data from Twitter, Instagram, and Facebook to provide real time trends for artists. They are launching with the K-pop genre, but will expand to other genres in 2016.
About SparkLabs
SparkLabs is a startup accelerator founded by entrepreneurs for entrepreneurs in South Korea. The focus is on startup companies from the Internet, online gaming, mobile, ecommerce, digital media, and healthcare sectors. The mentorship-driven program will be three months in length and provides funding, office space, a structure program and access to a top-tier network of entrepreneurs, venture capitalists, angel investors and executives. For more information, please visit http://www.sparklabs.co.kr
Contact: Bernard Moon, Co-founder
+1-650-454-5244 or bernard(dot)moon(at)gmail(dot)com