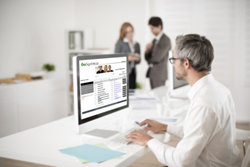 This integration allows students to sign-up for classes and get immediate access to the class and content in Canvas.
Irvine, CA (PRWEB) December 16, 2015
GoSignMeUp, a leading provider of online workshop and training registration software today announced a partnership with Canvas by Instructure, a leading software-as-a-service learning management system. This new partnership delivers a seamless integration with Canvas and GoSignMeUp and will provide a turnkey solution for organizations and schools to manage professional development as well as continuing education courses.
GoSignMeUp is used by organizations across the country that want to deliver any type of training or classes. The online class registration process is very simple and provides many automated features such as email reminders and confirmations, class lists, transcripts, and much more.
This new integration allows students to sign-up for classes and get immediate access to the class and content in Canvas. Additionally, GoSignMeUp provides credit tracking, transcript reporting, class and student history, enrollment reports, and financial analysis.
"The education community has been asking for a streamlined approach to delivering effective professional development and we're excited that our new relationship with GoSignMeUp will help solve this," said Melissa Loble, VP of Partners and Programs at Instructure. "Administrators will have robust tools to manage the entire professional development process in Canvas, as well as powerful analytics for federal, state, and local reporting."
Professional Development plays a very important role in advancing new teaching skills. According to the report, "Teaching the Teachers: Effective Professional Development in an Era of High Stakes Accountability, by NSBA's Center for Public Education, "…professional development in an era of accountability requires a fundamental change in a teacher's practice that leads to increases in student learning in the classroom."
"We understand that professional development is critical in refining and developing new teaching skills," says Ed MacNevin, CEO with GoSignMeUp. "GoSignMeUp is ideally suited for this since we provide an easy course registration process for teachers, but also powerful reporting tools to help improve learning pathways."
This new partnership with Canvas and GoSignMeUp delivers a complete turnkey solution, from class registration, to instruction, to post-class reporting. Perfect for professional development as well as continuing education.
About GoSignMeUp
GoSignMeUp is the leading provider of online class registration and professional development management software. Used by organizations of all sizes and types--including corporations, health care, government agencies, and education--it is the preferred registration tool for professional development, continuing education, client education, and student enrichment. GoSignMeUp is ideally suited for face-to-face, online and hybrid class registration processes, and integrates with Learning Platforms such as Canvas. For more information, please visit http://canvas.gosignmeup.com/.
Contact Information:
Greg Smith, Director, Business Development
Greg(at)GoSignMeUp(dot)com