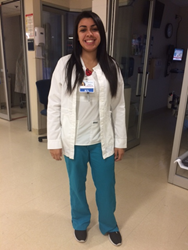 Everyone should be given an opportunity. You don't know what people can do until you give them a chance.
Miami, FL (PRWEB) December 24, 2015
According to a new study by the U.S. Bureau of Labor Statistics, healthcare occupations and industries are expected to add the most jobs between 2014 and 2024. With such a growing demand for healthcare services in the years ahead, healthcare providers may struggle to find qualified applicants to fill their vacant positions.
One place those employers should look is to Vocational Rehabilitation (VR), a federal/state agency that helps people with disabilities get or keep jobs. VR provides the training and education needed for people with disabilities to be successful in the most in-demand healthcare careers.
Miami native Cristy Segura is among them. From the time she was young, Cristy knew she wanted to make a career of helping other people, so she dreamed of attending nursing school. When her emotional and learning disabilities made it difficult to pursue that dream, she knew she couldn't give up; instead, she went to VR to find support.
VR helped Cristy make it through nursing school by covering the costs of tuition, books, and necessary accommodations so that she could focus entirely on her education. With VR's support, she earned her Associate of Science degree at Broward Community College in 2013, and moved on to Florida International University to complete her Bachelor of Science in Nursing in 2015.
Cristy is now employed as a registered nurse at Mount Sinai Medical Center in Miami Beach. She works in the Cardiac Intensive Care Unit, where she cares for patients who are critically ill. Cristy enjoys providing treatment, but it's the personal aspect of nursing that she loves the most. "I like the caring part of the job," she says. "It's not just caring for the patients, but also for the families that visit. I like that I get the chance to build those relationships."
Olga Ramos, Cristy's VR Counselor, isn't surprised by Cristy's success in her career. "Working with Cristy was like working with a professional, from the very beginning," she says. "She is always on top of everything, and she always has a goal in mind."
Cristy is goal minded even in her spare time. When she isn't working, Cristy attends nursing conventions and has even taken up a hobby that she never expected to enjoy outside of the classroom – reading. "During school, I never thought I would miss those nursing textbooks, but I do," she admits.
In fact, she misses them so much that she has made plans to further her education. Cristy is currently studying for the GRE so that she may attend graduate school and pursue her Master's degree in anesthesiology. Olga has no doubt that Cristy will succeed in these future plans. "Cristy has come so far and she still has more goals," she says. "She'll make it happen."
Cristy's success is not only a testament to her own determination, but also a positive example for any employer who might be wary of hiring people with disabilities. "Everyone should be given an opportunity," says Cristy. "I'm doing well in my job. You don't know what people can do until you give them a chance." In the New Year and in years to come, healthcare employers would do well to turn to VR to find qualified applicants ready to go to work.
About Vocational Rehabilitation
Florida's Vocational Rehabilitation (VR) is a federal-state program committed to helping people with disabilities become part of America's workforce. The employer-focused website, https://abilitieswork.employflorida.com/, allows businesses to search at no charge for employees who are ready to go to work, as well as to post available jobs. VR has 90 offices across Florida, and last year helped 5,760 Floridians with significant disabilities find or keep a job. For more information about VR and its services, call (800) 451-4327 or visit http://www.Rehabworks.org.