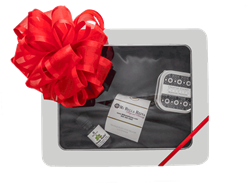 One only has to read the reviews on Google
Delray Beach, FL (PRWEB) December 16, 2015
Bella Reina, the Delray Beach "A-list" spa, is providing a relaxing shopping experience this year. From the new silver holiday themed tins to the spa gift cards, holiday shopping just got easier.
Known throughout South Florida for their signature facials and attention to details, Bella Reina Spa has put gift-giving in the pink. Ranked by Trip Advisor as the #1 Spa and Wellness destination, this Delray Spa has created three specialty spa packages for the gift-giving season. Each package has take home gifts to remember their visit to the spa.
"One only has to read our reviews on Google and TripAdvisor to know that our guests are tickled pink with their spa experience," said Nancy Reagan, CEO of Bella Reina Spa. Continues Reagan, "We are constantly learning new techniques, therapies and treatments. This year we added medical spa services like micro needling and dermaplaning to our menu."
Last minute shoppers can also delight in the addition of silver holiday tin gift sets. With a focus on the spa, cruelty-free makeup and organic skin care, each tin showcases the Bella Reina products. The Moment of Harmony spa gift set includes relaxation gifts like aromatherapy and a organic neck wrapper. The Naturally Glam highlights the "star" vegan lipstick. The third holiday gift set is all about the Bella Reina organic skin care.
For more information on the holiday gift sets, go to the Bella Reina shopping website at http://www.MiBellaReina.com. For more information on the Bella Reina Spa or instant spa gift cards, go to http://www.BellaReinaSpa.com or call the spa at 561-404-7670.
About Bella Reina: Bella Reina is the leading spa provider and definitive authority on luxury beauty, wellness, and spa treatments. Bella Reina was created by Nancy Reagan, a nationally recognized expert in beauty, skin care, and makeup. Nancy and Bella Reina Spa have been featured in the New York Times, Beauty High, Daily Makeover, WebMD, and People StyleWatch The Outfit, The Stir for beauty, spa industry and business expertise. To learn more about how Bella Reina is constantly innovating both spa services, spa memberships and shopping for beauty, please visit BellaReinaSpa.com or MiBellaReina.com.