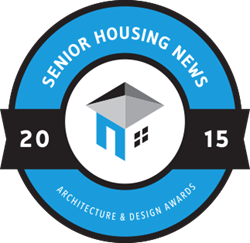 We continue to be impressed with how designers, architects and operators are raising the bar each year for senior living communities
Chicago, Illinois (PRWEB) December 16, 2015
Senior Housing News, an Aging Media Network publication, is pleased to announce the winners of the 2015 Senior Housing News (SHN) Architecture & Design Awards.
Senior living communities nationwide submitted their communities for consideration in the third annual SHN Awards, a contest that recognizes excellence by celebrating projects that improve the lives of seniors through innovative design.
"We continue to be impressed with how designers, architects and operators are raising the bar each year for senior living communities," said SHN Publisher and Founder George Yedinak. "Owners and operators are setting themselves apart through design in an increasingly competitive market environment by leveraging innovative spatial designs and focusing their efforts on community integration in local areas."
From the more than 60 organizations that entered their communities in this year's competition, only seven projects were chosen as 2015 SHN Awards Winners for their unique approaches to senior living design.
The 2015 competition was sponsored exclusively by Kwalu, a provider of senior living furniture solutions to communities across the United States.
"The Senior Housing News Architecture and Design Awards competition has seen truly diverse entries of the highest caliber, but they're all connected with a common thread: a dedication to making a difference in residents' lives through innovative space planning and design. With the landscape of senior living undergoing monumental changes, the winners of the Awards have established how cutting-edge design will help move the industry forward," said Kwalu CEO Michael Zusman.
"Each winner has demonstrated how groundbreaking ideas, combined with attention to detail and meticulous execution of vision contribute to responsive design, maximum flexibility, space utilization and facilitate resident well-being" Zusman added.
SHN is pleased to announce the 2015 Awards Winners:
Best Affordable
The Kilpatrick Renaissance (Chicago, IL)
Worn Jerabek Wiltse Architects, PC
Runner-up: Pinellas Heights Affordable Senior Living
Best Assisted Living
Aegis on Madison (Seattle, WA)
Aegis Living
Runner-up: Avanti Senior Living at Towne Lake
Best Continuing Care Retirement Community
Balfour at Riverfront Park (Denver, CO)
Balfour Senior Living
Runner-up: Ashby Ponds Retirement Community, Neighborhood 2
Best Independent Living
Azulón at Mesa Verde (Costa Mesa, CA)
Legacy Partners Residential
Runner-up: Sumter Grand Independent Living Facility
Best Renovation / Repositioning
The Terraces at Los Altos (Los Altos, CA)
D2 Architecture
Runner-up: Garden Spot Village
Best Skilled Nursing / Post-Acute Care
PowerBack Rehabilitation, Lafayette (Lafayette, CO)
Mainstreet
Runner-up: South Cove Manor Nursing and Rehabilitation Center
Best Stand-Alone Memory Care
Abe's Garden (Nashville, TN)
Abe's Garden
Runner-up: The Friendship House at Royal Oaks
Since the Nov. 13 submission deadline, a panel of senior living industry experts analyzed each entry, basing their final judgements on several criteria including Design & Aesthetics, Community Integration and Amenities & Lifestyle.
This year's judges included:
Jeff Anderzhon, FAIA, Senior Planning/Design Architect at Eppstein Uhen Architects
Elisabeth Borden, Principal at The Highland Group
Dan Cinelli, FAIA, Managing Principal at Perkins Eastman
John Cronin, AIA, Senior Principal at AG Architecture
For more information about the SHN Awards and to view the 2015 Winners, visit http://www.shnawards.com.
About Aging Media Network / Senior Housing News
Aging Media Network is an innovative publishing company based in Chicago, Ill., and is the publisher of Senior Housing News, Reverse Mortgage Daily and Home Health Care News.
Senior Housing News is the leading independent source for news and information covering senior housing and senior living.
With a global reach of more than 30,000 industry professionals, SHN's audience includes senior housing operators, developers, banking institutions, real estate investment trusts, private equity and service providers catering to the industry. Visit http://www.seniorhousingnews.com for more information.
About Kwalu
Kwalu is the leading provider of furniture to senior living in the U.S. Its products are Designed to Last® and will continue to look like new, year after year — which is so important right now, given the trend of residents' rising acuity levels and the resultant ongoing beating the furniture takes from walkers, wheelchairs and the like. When attracting new residents and maintaining high satisfaction levels for existing residents is important, Kwalu's senior living furniture can make the difference.
About the SHN Architecture & Design Awards
The Senior Housing News Architecture & Design Awards recognizes cutting-edge design, excellence and innovation in senior living. Returning for its fourth year, the annual awards contest celebrates unique projects and companies that are improving the lives of seniors through innovative design. Visit http://www.shnawards.com for more information about this year's contest, as well as past winners.
CONTACT:
John Yedinak
Managing Editor, Senior Housing News
312-281-8802
jry(at)seniorhousingnews.com
SOURCE Senior Housing News
RELATED LINKS
http://seniorhousingnews.com