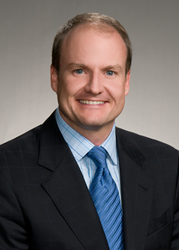 Denver, CO (PRWEB) December 16, 2015
Holland & Hart is proud to announce that partner Chris Balch has been named a "Lawyer of the Year" for 2015 by Law Week Colorado, the foremost publication within the Colorado legal industry. A partner in Holland & Hart's Denver office in the Corporate practice group, Balch was selected based on his exemplary client service and successes this year in several emerging growth financings and significant mergers and acquisitions across multiple industries. Balch also has extensive involvement as a leader within the firm and serves as co-chair for the firm's non-profit foundation, which extends to more than 10,000 people in Colorado communities alone.
Highlights for Balch this year include his leadership and involvement in growth capital and venture-backed financings for up-and coming companies, advising a company through a merger that led them to become the largest cybersecurity enterprise in the country, and representation of large public companies in negotiating successful acquisitions. Through his leadership on a number of additional strategic transactions, Balch has also played a significant role in supporting the legal needs and business development of Colorado's food & beverage industries, one of the state's most important sectors for economic growth.
Balch represents large and small companies, venture capital funds, private equity funds, and their portfolio companies in a variety of investment, financing, and strategic transactions. He acts as outside general counsel to a number of companies and advises on a wide range of corporate governance issues and general business matters. His corporate experience spans industries including software and technology, cable and telecommunications, financial services, professional services, manufacturing and consumer products, food and beverage, healthcare, air medical, travel, and cybersecurity.
In addition to his transactional work, Balch is deeply involved as a leader within the firm. He was one of the youngest members of the firm's management committee from 2009-2011 and also serves as co-chair of the firm's non-profit foundation. He is a long-standing member of Holland & Hart's recruiting committee and is heavily involved in strategic hiring for the firm's Denver office.
To read the full Law Week Colorado profile of Mr. Balch click here.
###
About Holland & Hart
Holland & Hart LLP delivers integrated legal solutions to regional, national, and international clients of all sizes from its 15 offices across seven states and the District of Columbia. Since its inception in 1947, Holland & Hart's more than 500 lawyers have consistently been recognized by leading national and international peer and industry review organizations for innovation and dedication to the practice of law. For the fifth consecutive year, the firm was named to BTI Consulting's list of Most Recommended Law Firms by corporate counsel. For more information, visit http://www.hollandhart.com.