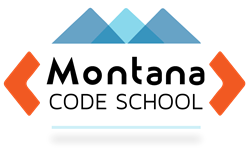 The graduating pioneer class of the Montana Code School represents the next generation of technology sector talent for Montana.
Missoula, MT (PRWEB) December 16, 2015
The Montana Code School announced today that its first class will be graduating on Friday December 18th, 2015. The Montana Code School is a community-driven initiative based in Missoula dedicated to expanding the pipeline of technology talent in Montana through a 12 week boot camp style course.
The inaugural class began on Monday, September 28th, 2015. Many students started the class with little or no programming skills. They have successfully learned full stack web development technologies along with modern approaches to software development and are now equipped with the skills necessary to enter junior level programming positions.
"I am so proud of our Montana Code School students and all they have achieved over the last 12 weeks." said Doug Walter, Lead Instructor. "As the pioneer class, these students have forged a new path for Montanans who want to enter the tech sector and everyone at the Montana Code School is excited to see what their future brings."
Wisetail Works, the charitable giving arm of Bozeman indie tech firm, Wisetail, provided a $100,000 grant to the Montana Code School to support the program's efforts to train the next generation of tech sector talent in Montana.
"This is an exciting day for the Montana Code School graduates and the larger tech economy in our state. We're proud to support this effort to get students ready for great jobs where they can contribute to the innovation and success of our tech community," said Justin Bigart, CEO of Wisetail.
The Montana Code School is now accepting applications to its first session of 2016 which will begin on February 8th. To learn more about opportunities at the Montana Code School click HERE.
Wisetail Works Open Invitation
Wisetail Works is currently taking submissions for projects seeking to employ a Wisetail system or in need of funding. If you have a project or a proposal to positively impact Montana's social, economic or environmental well-being, we want to hear from you. Learn more here.