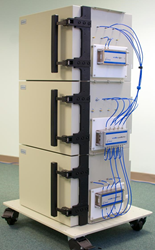 By virtue of emulating motion, the octoBox roaming testbed offers unique benefits over simpler testbeds that can only test fail-over roaming.
Littleton, MA (PRWEB) December 21, 2015
octoScope®, Inc.'s new roaming testbed allows the exploration of a Wi-Fi device's roaming and handoff performance over a wide variety of conditions. Users can now quickly test the true capabilities of clients and access points in a repeatable manner using the roaming testbed's tightly-controlled RF conditions with full automation.
As Voice-Over-Wi-Fi (VoWiFi) becomes a critical part of an operator's service and a key differentiator for users looking for a seamless roaming experience, it's become clear that many wireless clients have deficient roaming and hand-off algorithms. Client devices may delay in handing over, temporarily lose connection or completely drop a connection due to improper roaming algorithms. In the enterprise, access points must also pre-authenticate devices for handoff across access points. Improper implementation at any of these points results in poor user experience such as call drops, stuttering video, and slow internet response.
"While fast roaming is specified in 802.11r, much of the underlying implementation detail is unspecified," said Randy Oltman, octoScope's VP of Marketing. "This allows for variations in performance between different devices, as well as uncertain interactivity between the wide range of AP/client combinations." Also, roaming performance is subject to radio design, RF conditions, and can vary across manufacturers.
Patrick Mannion, founder of technology analysis firm ClariTek, LLC, adds that "By virtue of emulating motion, the octoBox roaming testbed offers unique benefits over simpler testbeds that can only test fail-over roaming. Motion emulation is necessary for fast transitions and realistic roaming test scenarios whereby the client is within reach of one or more live access points."
"Network engineers need to test and understand a device's roaming capabilities and performance under real-world conditions, but such a comprehensive analysis is basically impossible without isolation," said Craig Mathias, Principal at Farpoint Group. "There are simply too many uncontrollable variables. And poor product performance is a clear path to unhappy customers."
The octoBox® Roaming Testbed emulates device motion in a controlled environment through precise programming of time-varying signal levels and interference. A precise and repeatable RF environment helps engineers assess roaming performance, optimize roaming time, find sticky clients, and analyze undesirable behavior, such as client's ping-ponging between access points. The octoBox roaming overview video explains the test methodology.
Through automation of the controlled environment, the octoBox OB-ROAMING automation script dramatically shortens test time and helps vendors ship improved products months sooner. "The roaming functionality and performance are central to wireless mobility and user experience," said Fanny Mlinarsky, President of octoScope. "With the octoBox controlled environment and our new OB-ROAMING test automation, engineers can observe and optimize roaming performance by creating a range of challenging handover scenarios."
The octoBox Wireless Testbed
The octoBox wireless testbeds guarantee a repeatable and consistent environment with powerful automation that eliminates human error in testing. octoBox speeds time to market and ensures the best performance of wireless devices in the field by enabling scriptable measurements of MIMO throughput, roaming, interoperability and coexistence in the presence of realistic conditions: interference generated by the iGen™ module, multipath emulated by the MPE (multipath emulator) and path loss emulated by the quadAtten™ programmable attenuators.
The octoBox is being used by wireless operators, device manufacturers and chipset vendors to test Wi-Fi as well as 2G/3G/4G mobile communications interfaces in consumer as well as medical devices and robotics applications. With its complete isolation and consistent test environment in labs around the world, the octoBox solution is highly-praised by its diverse users.
About octoScope
octoScope is the leading supplier of wireless test solutions and services to companies building or deploying wireless communications devices and networks, including LTE, Wi-Fi and Bluetooth. octoScope is the market leader in accurate and repeatable automated testing solutions, and is the recipient of a National Science Foundation grant.