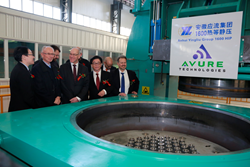 The Quintus HIP produces complex components with improved fatigue strength and extended service life.
Västerås, Sweden (PRWEB) December 17, 2015
Jan Söderström, CEO of Quintus Technologies (formerly Avure Technologies), joined Frank Du, President of China's Yingliu Group, to celebrate the inauguration of a Quintus® Hot Isostatic Press (HIP) at the Anhui Yingliu Group Huoshan Casting Co. Ltd. foundry in Anhui province, China, in early December.
The new press, model QIH 1.6 x 2.5 – 2000 – 1400M URC, brings several advanced capabilities that enable the Huoshan facility to manufacture products meeting mission-critical performance standards in the aerospace and nuclear power environments.
Operating at a pressure of 200 MPA (29,000 psi) and temperatures up to 1400°C (2552°F), the Quintus HIP produces complex components with improved fatigue strength and extended service life, ever-more-important characteristics that are difficult to achieve in traditional manufacturing technology.
A work zone of 1600 mm (63 inches) in diameter and 2500 mm (98 inches) in height accommodates the size requirements for production of large aircraft engine casings and core components for nuclear power, marine engineering, metallurgy, and other applications. Quintus' proprietary Uniform Rapid Cooling (URC) technology enables increased productivity with optimal temperature control.
"Quintus HIP systems produce parts with excellent isotropic material properties and offer the highest possible density of all available compaction methods," noted Mr. Söderström as he handed the keys to the press to Mr. Du during the inauguration ceremony. The event was attended by more than 500 guests, including representatives from a dozen prominent Chinese companies in the aviation and nuclear power industries.
Reminding the audience of the Made in China 2025 campaign to improve quality and production efficiency, Mr. Du referenced the Yingliu Group's own strategic commitment to industrial upgrading. The company ordered the QIH 1.6 x 2.5 in December 2013. It was delivered after a 15-month manufacturing process at the Quintus plant in Västerås, Sweden. Installation, testing, and commissioning took place over a period of 20 weeks. Now fully operational, the press fulfills the Yingliu Group's vision of establishing a world-class hot isostatic pressing center at the Huoshan Casting facility.
Read more about the Yingliu Group: http://www.yingliugroup.com/yljten/article/?1/
Read more about Quintus Technologies: http://www.quintustechnologies.com
About Quintus Technologies
Quintus Technologies specializes in the design, manufacture, installation, and support of high pressure systems for sheet metal forming and densification of advanced materials and critical industrial components. Headquartered in Västerås, Sweden, and represented in 35 countries worldwide, the company is the world leader in high pressure technology and has delivered more than 1,800 systems to customers across the globe within industries such as aerospace, automotive, energy, and medical implants.