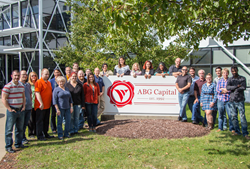 Our employees are like family to my brother Jason and me. We believe they work hard and take pride in what they do because the company means so much to them. -- Jeff Tapolci, CEO
Pittsburgh, PA (PRWEB) December 17, 2015
ABG Capital, a business management firm and technological and software innovator, owned by brothers Jeff and Jason Tapolci, announced being named on the list of Best Places to Work in Pennsylvania for 2015.
"Our employees are like family to my brother Jason and me. We believe they work hard and take pride in what they do because the company means so much to them. We also have a festive, unique culture here, so I'm sure that makes it fun and rewarding to come to work every day," explained Jeff Tapolci, CEO.
One hundred companies are named on the list of Best Places to Work in Pennsylvania. The list offers two categories—small-/medium-sized firms with 25-250 employees and large-sized companies with over 250 employees. Among the 74 small-/medium-sized companies named, ABG Capital ranked at number 16. This makes the fifth consecutive year placing on the list.
Rankings are compiled from a survey that's sent to employers and employees from hundreds of companies in Pennsylvania. A formula similar to Fortune's "100 Best Companies to Work for in America" is used for this. The Best Companies Group scores the workplace practices survey, as well as the employee survey, and each Best Places to Work candidate is given a total overall score.
In 2015, ABG Capital also ranked on the Inc. 500/5000's Fastest Growing Companies and Pittsburgh Business Times' Top 100 Private Companies lists.
For more information on the Best Places to Work in PA program and the full list of companies chosen, please visit http://www.bestplacestoworkinpa.com.
ABG Capital is a privately held business management company located in Pittsburgh, PA. ABG Capital supports its portfolio companies' growth and success by offering aggregated back office services such as accounting, administrative, legal, IT, software development, HR, and marketing communications. Offering these services allows for the portfolio companies to have a competitive advantage as well as an equation for quick paced success. For more information, please visit the ABG Capital Blog.