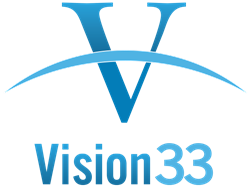 Irvine, California (PRWEB) December 21, 2015
Vision33, an SAP gold partner and value-added reseller (VAR) for the SAP Business One® application, recently announced the recipients of its Visionary Awards 2015. Each year, Vision33 gives the award to its fast-growing customers that best demonstrate innovative ways to leverage SAP Business One as a transformative ERP solution. This year's recipients include: HitFar, CB Medical, Universal Soul Services Corp, Vegetable Growers Supply, Bazic Products, Valu Home, La Bodega, and DITEK – Largo Florida.
Selected by Vision33 from over 600 of its customers across North America, this year's recipients were awarded based on their exemplary use of SAP Business One to obtain business insight into their operations. These customers leveraged SAP Business One to accelerate growth and achieve new business goals. The awards were presented by Vision33 to the recipients at the 2015 ASUG SAP Business One Summit in Austin, Texas.
This year's Visionary awards were presented to:

About Vision33
Vision33 Inc. (http://www.vision33.com), four-time recipient of the SAP® North America Partner Excellence Award for SAP Business One®, is a leading global enterprise resource management (ERP) solutions provider, focused on providing the SAP Business One application for growing businesses and large enterprise subsidiaries. Through offices located across the globe, Vision33 provides the right balance of software, world-class consulting and support services to help customers better manage and grow their business.
Vision33 is a member of the Group zed family of companies. With roots dating to 1992, Group zed (http://www.gzed.com) is a privately owned and operated corporation, which provides its family of industry leading companies with the strategic vision and tools to deliver on the promise of technology to customers, setting them apart from other industry peers.
CONTACT:
Sarah Coish
Marketing Manager, Vision33
sarah(dot)coish(at)gzed(dot)com
SAP, SAP Business One and other SAP products and services mentioned herein as well as their respective logos are trademarks or registered trademarks of SAP SE (or an SAP affiliate company) in Germany and other countries. See http://www.sap.com/corporate-en/legal/copyright/index.epx for additional trademark information and notices. All other product and service names mentioned are the trademarks of their respective companies.