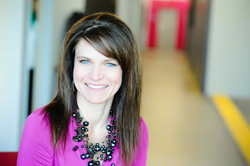 Kristin is an innovative and pragmatic human resources leader who has helped SquareTwo Financial become a top employer, especially in the technology industry. - Paul A. Larkins, SquareTwo Financial CEO
Denver, CO. (PRWEB) December 21, 2015
SquareTwo Financial, a leader in the $100 billion asset management and recovery industry, today announced that Kristin A. Dickey, the company's senior vice president of human resources and organizational development, has won the Human Resources Executive of the Year silver award from Best In Biz International, the only international business awards program judged by members of the press and industry.
"Kristin is an innovative and pragmatic human resources leader who has helped SquareTwo Financial become a top employer, especially in the technology industry," said Paul A. Larkins, president and CEO of SquareTwo Financial. "Hiring the best possible talent is paramount for our business to thrive, and Kristin has played a pivotal role in our ability to attract and retain excellent employees."
Winners of Best in Biz International 2015 awards were determined based on scoring from an independent panel of judges from highly recognized international newspapers; business, consumer and technology publications; radio outlets; and analyst firms.
"I am honored to be recognized by Best in Biz International," Dickey said. "This award is also recognition of the hard work of my outstanding team, which forms the backbone of our human resources benefits, recruitment, and training programs."
For a full list of winners of Best in Biz Awards International 2015 awards, visit: http://intl.bestinbizawards.com/intl-2015-winners/
About SquareTwo Financial
SquareTwo Financial is a leader in the $100 billion asset recovery and management industry. Since 1994, the company and its subsidiaries have helped more than two million individuals and businesses resolve their outstanding financial obligations. SquareTwo Financial's collection agency, Fresh View Solutions, works with consumers to repay their financial obligations. The company's Fresh View Funding debt ownership team works with banks and other issuers of credit to purchase unpaid debt. SquareTwo Financial is based in Denver, Colorado. Visit http://www.squaretwofinancial.com for more information.