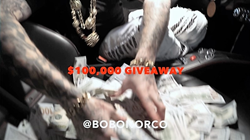 Hollywood, CA (PRWEB) December 21, 2015
Independent hip hop artist Bobo Norco made major headlines earlier this month when he announced on his Instagram that he was giving away $10,000 to a lucky fan this Christmas. The contest was a huge success with prizes also given to second and third place. The chosen winners were ecstatic when they were selected and now Bobo has upped the ante.
On December 19th, Norco announced the next contest on his Instagram which now has a prize of $100,000! In the video, Norco pulls up in his 2015 Ferrari California and announces the giveaway while pouring $100,000 in cash out on the passenger seat.
In the caption section of the post, we learn that the entry rules of the contest include; following @BoboNorco and his new clothing line @KNDM on Instagram, tagging 3 friends in the comment section, and re-posing the contest video with the hashtags #BoboNorco and #BoboNorcoGiveaway. The caption also states that the winner will be selected on January 1, 2016.
The contest comes on the heels of last month's announcement regarding Norco's upcoming album this February. The album will include features from fellow rap stars; Wiz Khalifa, 2 Chainz, Future, T.I., Wale, Young Thug, Gucci Mane, Rich Homie Quan, and Tory Lanez.
To enter the contest visit http://www.instagram.com/BoboNorco or follow this link https://www.instagram.com/p/_fhArWR2Y5
About Bobo Norco
Bobo Norco was born in Santa Rosa, California. In January 2013 Norco released a single titled "Roll Call" which is a tribute to the San Francisco 49ers. The song was featured in several media sources including Rap Radar, VladTV, and AllHipHop. In the fall of 2013 Norco released his debut project, "Keep It XO". The buzz from this album landed him a live concert performance at SXSW opening up for Twista. His first hit single, "You" was put in rotation on FM radio throughout the United States and Europe and sparked a national tour that demanded Norco to appear in person in radio station interviews throughout the country. Soon after, another single emerged entitled, "Music Blow My Brain". The track reached #1 on college FM radio which quickly spread across the U.S. His fame also spilled over into print media. Norco was seen with a full page features in XXL's 2014 Freshman Issue, The Source, Alternative Press, and the official Van's Warped Tour guide. He was then promoted to the front of publications and graced the covers of ten magazines including; Tattoo, HYPE, and Coast2Coast Magazines.