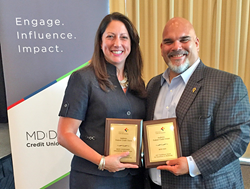 Suitland, Maryland (PRWEB) July 06, 2017
The MD|DC Credit Union Association recently presented the 2017 Trailblazers Awards to member credit unions for outstanding work in marketing materials and member communications. This year, Andrews Federal Credit Union received awards for Best ROI and Best Consumer Financial Education.
In 2016, the Credit Union hosted a total of 36 seminars that were attended by over 1,000 guests. Additionally, they designed a 3-, 18-, and 84-month share certificate featuring higher yields. The campaign initially launched as a Black Friday holiday offer, and was re-branded in December with a holiday theme. This campaign produced $573 million in new share certificate balances, with a return on investment of more than $1.4 million.
"I am truly honored and humbled by these awards," said Oma George, Chief Retail Officer. "We are always looking for ways to help our membership achieve their financial goals and dreams. I also couldn't be more proud of my marketing team."
About Andrews Federal Credit Union
Andrews Federal Credit Union was founded in 1948 to serve the needs of military and civilian personnel by providing a vast array of financial products and services. With over $1.5 billion in assets, Andrews Federal has grown to serve more than 120,000 members in the District of Columbia, Joint Base Andrews (MD), Springfield, Virginia (VA), Joint Base McGuire-Dix-Lakehurst (NJ), and military installations in central Germany, Belgium, and the Netherlands. In addition, the Credit Union serves as a financial partner with many select employee groups in Maryland, the District of Columbia, Virginia and New Jersey.
To learn more about Andrews Federal Credit Union and its community involvement, or to become a member, call 800.487.5500 or visit http://www.andrewsfcu.org.