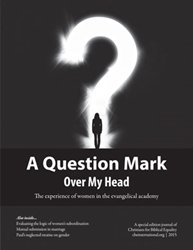 Minneapolis, MN (PRWEB) December 23, 2015
Christians for Biblical Equality's (CBE) outreach at the 2015 Evangelical Theological Society (ETS) has led to a renewed examination of ETS's engagement with women scholars.
Each year, CBE has a presence at the annual November meeting of the ETS, including a booth and community meal at the conference and a special journal mailing to all US and Canadian members.
This year, CBE's special edition journal for ETS, A Question Mark Over My Head was headlined by CBE intern Emily Zimbrick-Rogers' first-of-its-kind research on the experience of women at ETS and the evangelical academy. At the 2015 ETS convention, held in Atlanta, GA, Zimbrick-Rogers presented her qualitative research at a special session, hosted by CBE and attended by the incoming ETS president.
The research revealed the difficulty women often have in navigating the male-dominated world of the evangelical academy, calling on evangelical men to stand alongside women and challenging the organization to clarify its position on women scholars. Research participants observed a lack of clarity on the organization's position toward women, noting that many in the organization seek to be welcoming to women, but also adhere to theological perspectives that exclude women from holding a variety of leadership roles from pastor to seminary professor.
In response to Zimbrick-Rogers' work, ETS president Dr. Daniel B. Wallace issued an apology on behalf of ETS for how the organization has interacted with women scholars over the years. Yet, at the annual meeting, a resolution was also passed opposing same-sex marriage while also affirming "that God created men and women, imbued with the distinct traits of manhood and womanhood, and that each is an unchangeable gift of God that constitutes personal identity." This stance on distinct gender traits and associated roles is one of the issues identified by some study participants as an obstacle to the inclusion of women as full partners in academic work.
"To insist upon grouping traditional marriage with Victorian gender roles is to paint a false reality," said Liz Beyer, CBE's bookstore coordinator, who attended the conference. "It suggests that one cannot support the full equality of men and women in the church and home without endorsing same-sex marriage. This is simply not true. Resolutions like these, which rely on false narratives about egalitarians, alienate conservative, egalitarian scholars within ETS."
CBE's president, Dr. Mimi Haddad, echoed her concern. "Unfortunately, division on gender issues has often served to reduce dialogue and collaboration among scholars, which has a negative impact not just on the quality of the scholarship, but on the evangelicals worldwide, many of whom are taught by the institutions represented at ETS. I am proud of CBE's tradition of bringing top-notch scholarship to the table and inviting dialogue. Iron sharpens iron, and nowhere is this more evident than the academy. I salute Dr. Daniel Wallace and others in ETS leadership who are committed to shaping ETS into an organization that values dialogue and welcomes women's voices alongside men's in its pursuit of excellent scholarship."
In its effort to advance a biblical foundation for gift-based rather than gender-based ministry and service, CBE sponsors annual conferences, facilitates local chapters, hosts an online bookstore and publishes two award-winning journals. For more information, visit http://www.cbeinternational.org.