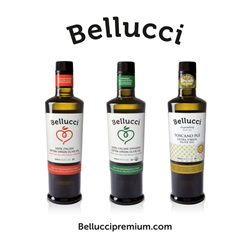 (PRWEB) December 22, 2015
NewsWatch featured Bellucci as part of its monthly AppWatch, which takes a look at the latest and coolest applications on the market for iOS, Android, and Windows. Mitchell Cole, app reviewer at NewsWatch and mobile technology expert, conducted the review and shared with viewers how chefs can trace the origin of Bellucci's 100% authentic Italian olive oil.
It's no secret that olive oil is a key ingredient in every chef's kitchen. Unfortunately most chefs don't know that they're probably not cooking with authentic extra virgin olive oil. In fact, 69% of olive oil that is labeled as authentic is actually just a blend of oils, according to the International Olive Council. So a company called Bellucci is working to bring this situation to light by not only offering three 100% authentic Italian extra virgin olive oils, but also with an app that focuses on the traceability of their oils.
Once a cook has made a salad or done whatever they do with their Bellucci olive oil, they can plug in the lot number on the back of their bottle and trace it to the exact region it's located in, then see background info on the region. This way the chef will know that it's authentic and is from an actual mill in Sicily or Puglia, for example.
The Bellucci app also other features in the app like a recipe section to make meals using their oils. The app is available on iOS and Android devices for free. So head on over to the app store and search for "Bellucci" today.
To learn more, visit http://www.belluccipremium.com.
About NewsWatch
NewsWatch is a weekly 30-minute consumer oriented television show that airs on the Discovery Channel and ION Network. NewsWatch regularly features top technology products and services, mobile applications for iOS, Android, and Windows devices, unique and beautiful travel destinations around the world, health and medical tips, and entertainment interviews on the show. NewsWatch airs on the Discovery Channel at 7:00 – 7:30 AM ET/PT.
NewsWatch is located in the greater Washington, DC area and has been on air for over 25 years. For more information or to watch the most recent episode, visit http://newswatchtv.com/appwatch.html.