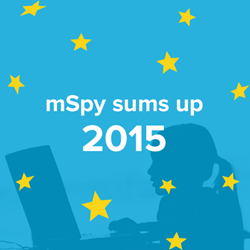 (PRWEB) December 28, 2015
Today mSpy is an international brand that secures children and provides the highest level of monitoring comfort. mSpy software is marketed primarily at parents and business owners as a way to monitor smartphone, tablet and computer usage of children and employees. mSpy is no more just a single Android or iOS app, yet, an ecosystem including desktop monitoring software and a web-based dashboard. The download of a cross-platform children monitoring solution is most convenient via mSpy brand site mSpy.com. In 2015 demo mSpy control panel became available on Google Play and now reached its 100 000+ downloads which actually means 700-1000 daily downloads. mSpy also keeps one of the key places in Monitoring Software category at download.cnet.com with more than 115 000 downloads.
In 2015 the number of mSpy clients approximated 1.5 million and the number of countries, mSpy application has customers in, reached 207. Leading mSpy markets today include USA, Germany, France, Brazil and the United Kingdom.
mSpy application is now an ultimate monitoring tool. mSpy team of experts has been constantly improving the technical level of mSpy parental control application. In 2015 mSpy has obtained monitoring features for 3 Messengers (including WeChat, Telegram, LINE) and Instagram social network. mSpy upgraded its support for Desktop OS including OSX EL Capitan, Windows 8 "Metro apps", Windows 10. It also became available for the latest mobile OS: Android 6.0 Marshmallow and iOS 9.2. Using web browsers (Including Chrome and Mozilla) in Incognito mode is now possible to be monitored if your child's desktop is secured by mSpy. mSpy struggles to provide its users with the highest level of comfort that's why in 2015 mSpy brand site was redesigned to provide unforgettable user experience. mSpy still keeps users data in safety and provides a double level of data security with the mSpy Staff Panel and 256-bit code encrypting.
mSpy treasures every its client and pays much attention to its clients service 24/7. mAssistance has processed over 3000 requests in 2015. mSpy support team has been constantly improving its service quality involving new professionals and starting the new loyalty schemes. Also mSpy support team is open to help clients suffering from illegal mSpy usage.
mSpy provides a wide range of features that safeguard modern children in most situations. It is one of the best ways nowadays to really acknowledge any child's interests and concerns. With the GPS tracking, parents can know if their children are in the wrong or dangerous neighborhood; with the messaging records, including texts, emails and most messengers - the cyber-bullying problem can be prevented. With the web browsing history reports, concerned parents can make sure that children are not spending time on pornography or gambling websites.
mSpy is eager to deliver the highest level of comfort and protection to all the customers. Currently mSpy works on all popular mobile and desktop platforms and plans to move forward to meet any kind of future demands. Today mSpy is a fast developing application which plans to keep the leading positions on the market of monitoring software.
ABOUT MSPY
mSpy specializes in customized and user-friendly mobile & computer monitoring solutions, by utilizing the latest innovations in monitoring technologies. mSpy goal is to deliver the fastest and most secure solutions that suits most demanding parental and corporate needs and brings guaranteed results at an affordable price.