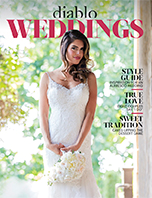 We have a top-notch editorial staff that is passionate and informed about wedding planning, and we can't wait to share our next dedicated wedding book with our audience and advertisers—Barney Fonzi, President of Diablo Publications
Walnut Creek, CA (PRWEB) December 23, 2015
Diablo Publications today announced the release of its second wedding book, Diablo Weddings. The new publication will arrive in early January 2016. Editorial features will include: venues, fashion, flowers, food, cakes, invitations, and the hottest trends from top vendors. Packed with wedding inspirations and aspirations, the magazine will be tailored to brides and grooms planning their wedding in the San Francisco East Bay and beyond.
The magazine will provide everyone involved in planning a wedding with the set of tools and contacts needed to bring the wedding to life. Whether readers desire an intimate outdoor venue or a sophisticated ballroom event, Diablo Weddings will be a great resource for making the special day come true. Editorial will feature "Real Weddings," with the stories behind East Bay weddings; and "Visual Wedding Cakes," featuring designers of incredible cakes.
With the success of prior wedding sections in Diablo magazine, Diablo Publications recognized the need for a dedicated publication for its readers and advertisers. Through research, Diablo has determined that couples who live in or travel to the San Francisco East Bay spend between $29,159 and $48,598 on average for their wedding*.
"The first edition of Diablo Weddings was so well received, we decided to continue the magazine as an annual publication," states Barney Fonzi, President of Diablo Publications. "We have a top-notch editorial staff that is passionate and informed about wedding planning, and we can't wait to share our next dedicated wedding book with our audience and advertisers."
Diablo Publications also launched the Diablo Weddings website, diabloweddings.com. The site features content from the magazine, as well as expanded content and photos from real weddings in the East Bay and the surrounding area. A link to a digital edition of the magazine is located on the home page.
ABOUT DIABLO PUBLICATIONS
For 35 years, Diablo Publications, an employee-owned company, has been creating award-winning publications, including Diablo magazine, Napa Sonoma magazine, Diablo Weddings, the Diablo City Book Series, Diablo Arts, Concierge East Bay, and the Tri-Valley California Visitors Guide. Diablo Publications' custom content division, Diablo Custom Publishing (DCP), provides complete print and online marketing communications and customer publishing services for corporate clients nationwide. For more information, visit diablopublications.com, dcpubs.com, diablomag.com, napasonomamag.com or diabloweddings.com.
*(The Wedding Report 2014)